With Halloween quickly approaching, we're in the mood for devilishly delicious drinks and desserts. Spooktacular seasonal specials abound, so we've rounded up some of the most creative concoctions that are on offer this month. We're pretty sure they'll have you howling for more. (Ok, we're finished with the puns, we promise.) Scroll down for the Halloween treats we'll be trying this month.
Black Tap
It should come as no surprise that Black Tap locations from coast-to-coast have gone above and beyond with both seasonal Classic Shakes and outrageous Halloween CrazyShakes. For a true Halloween treat, Halloween CrazyShakes will be available at various Black Tap locations. In Soho and Midtown, indulge in a very limited edition CrazyShake from October 29-31. A decadent black chocolate shake with a chocolate frosted rim and Halloween sprinkles will be topped with a Georgetown Cupcake Frankenstein Cupcake, purple and orange twisty pop, whipped cream & chocolate drizzle.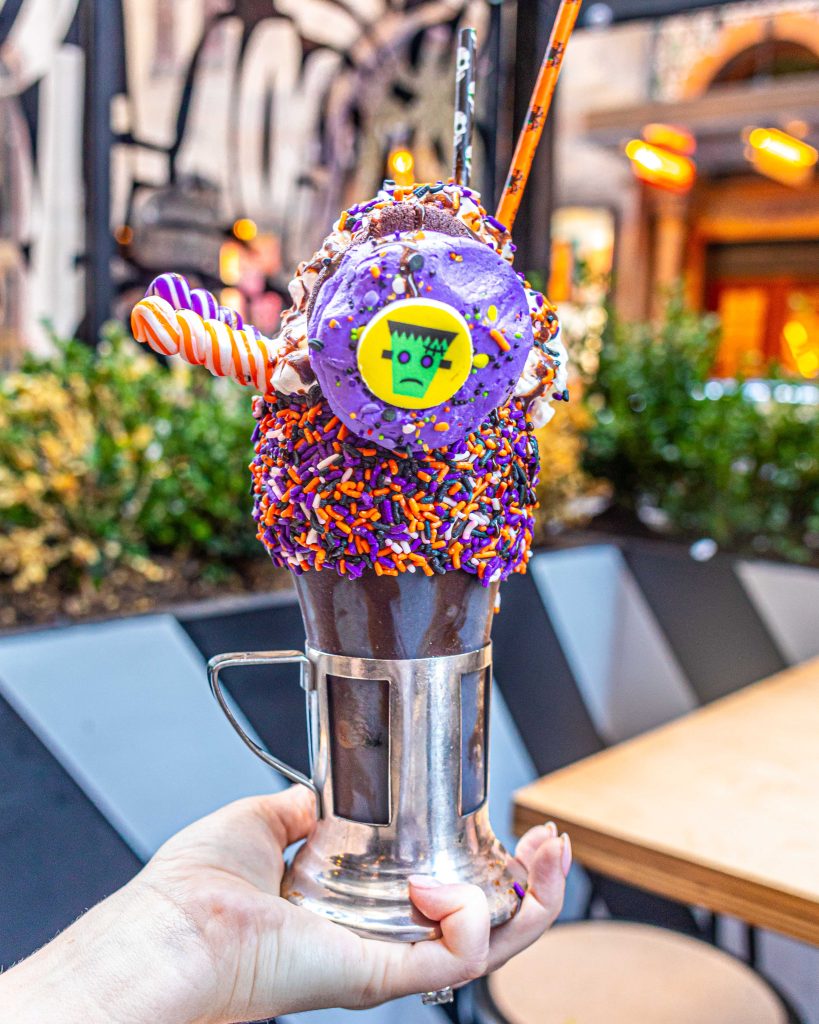 If you're on the West Coast, Black Tap's Anaheim and Las Vegas locations will be offering their Halloween CrazyShake from October 25-31. A chocolate shake with a vanilla frosted rim with candy corn will be topped with a 'spider-web' chocolate cupcake, orange and white twisty pop, orange rock candy, whipped cream, orange sprinkles and a chocolate drizzle.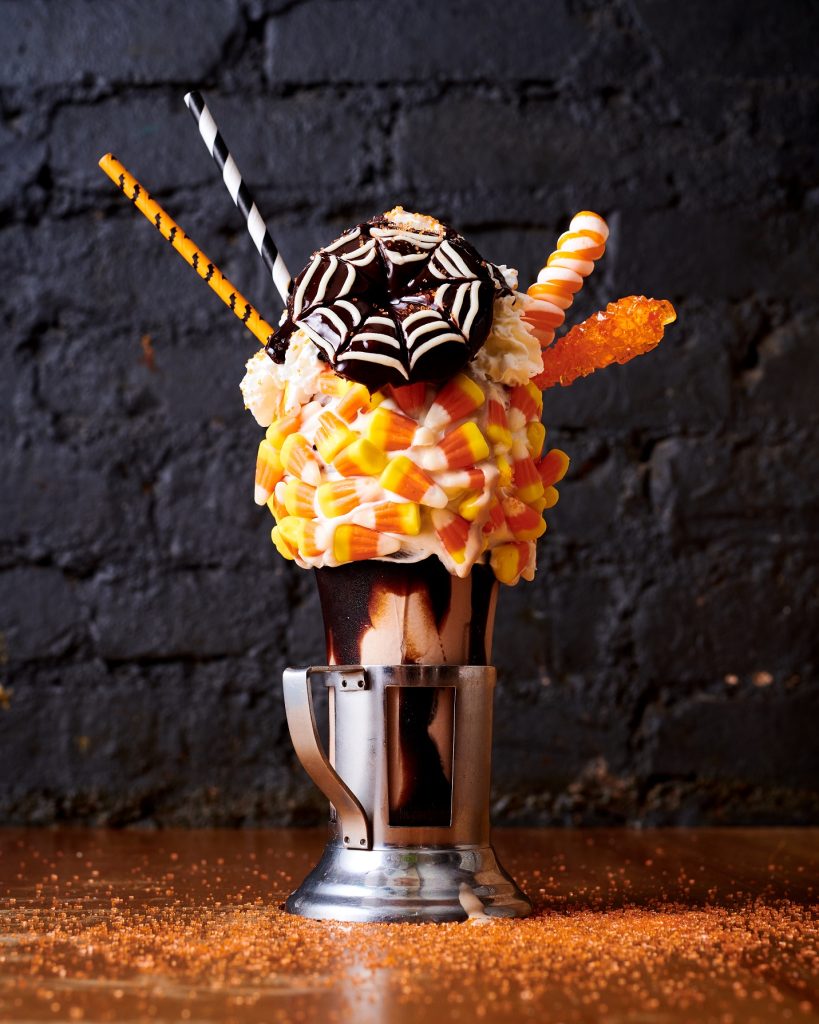 For general Fall vibes, the Classic Pumpkin Spice Shake (topped with whipped cream, pumpkin pie spice, and a cherry) will be available at multiple locations through October 31.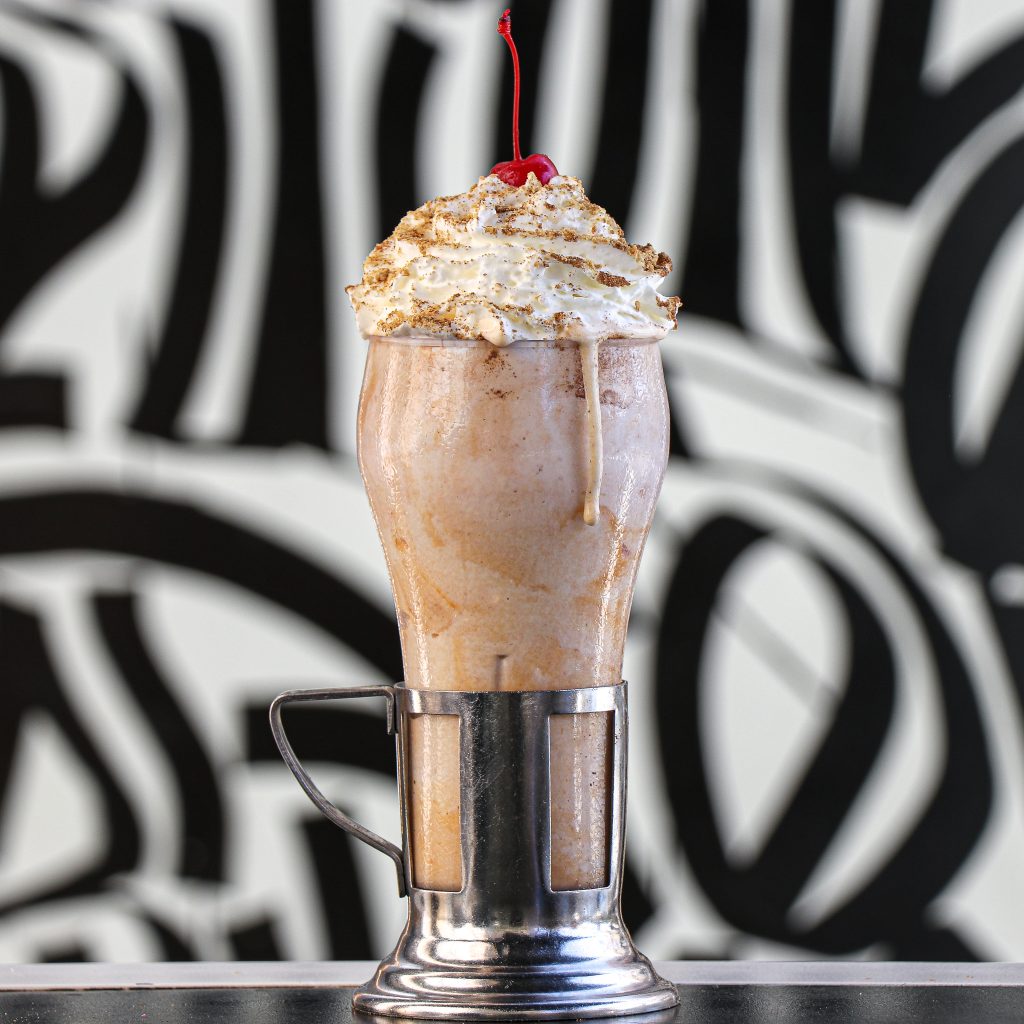 CHICA
CHICA by celebrity chef Lorena Garcia is offering an exciting take on traditional chocolate lava cake at their Miami and Aspen restaurants. This Dia de los Muertos-inspired dessert, called The Flaming Skull, was created by Jessica Scott, pastry mastermind and Corporate Chef at 50 Eggs Hospitality Group. This work of art starts with a golden skull, which is ignited tableside with spiced rum to melt the skull and reveal the cake along with a flow of chocolate fondue. Get your phone ready – this dessert is Insta story-worthy.
Magnolia Bakery
Get your fill of cute, colorful cakes (and cupcakes) with Magnolia Bakery's adorable Halloween offerings. These are sure to be a hit at your Halloween bash – they're almost too cute to eat, but definitely too delicious to pass up. Available for shipping nationwide via Magnolia Bakery's new website. Order by October 28.
For a more grown-up treat, Ketel One Vodka and Zacapa Rum have created spooky seasonal cocktails that are sure to make you the (g)host with the most (Ok, last pun for real!).
Bloody Dutch Sour
1 oz. Ketel One® Family Made Vodka
½ oz. Aperol
½ oz. Lillet Blanc
½ oz. blood orange reduction simple syrup*
¾ oz. fresh lemon juice
Egg white
Garnish: Fresh thyme sprig
Directions:
Combine ingredients in a mixing glass.
Dry shake for 10 seconds.
Add ice and shake well again.
Double fine strain into a chilled coupe glass.
Garnish with fresh thyme sprig.
*Blood Orange Reduction Simple Syrup
Zest and juice 4 blood oranges.
Combine and bring to a low boil, reduce heat and add 1 cup water and 1 cup white sugar.
Stir and remove from heat.
Cool and double fine strain.

Lava Roasted Manhattan
1 ½ oz Zacapa No. 23 Rum
¾ Oz Spiced Cacao Vermouth
¼ Oz Mezcal
1 Dash Mole Bitters
Garnish: Roasted Marshmallow on a skewer
Directions:
Stir all of the ingredients in a mixing glass.
Double strain into a coupe glass.
Roast marshmallow, garnish and serve.
Happy Halloween from all of us at Bullfrog + Baum!