Gearing Up for Business Is a Lot Like Fitness:
For the final days of Women's History Month, we're focusing on a New York local who has found success in her community. The founder and creator of Brooklyn spin studio BYKlyn, Amy Glosser, has seen entrepreneurial triumph since the studio's inception in 2014.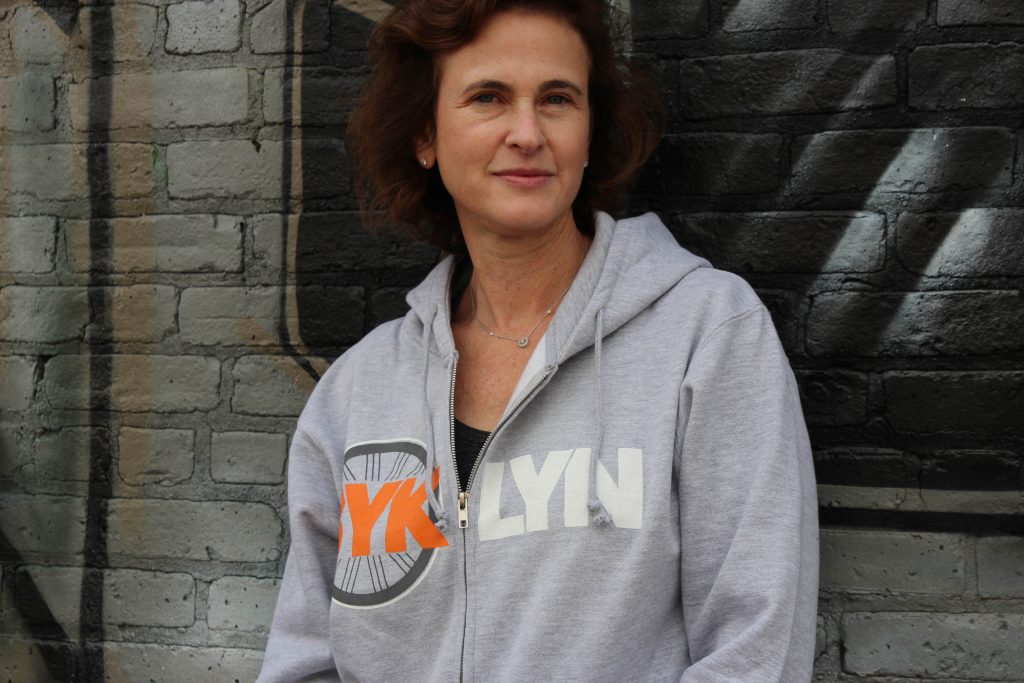 Like a bike ride, there are up and downhill battles for any business; accepting these scenarios and finding the motivation to continue is imperative for progress. Amy relates her business journey with that of a fitness class, citing that "it's making lots of regular decisions, and occasional leaps" with the motivation from her team that has helped create an environment for success.
This motivation comes from Amy's community-based backbone when she first created BYKlyn. Creating a mission and values is essential to finding a niche in the market; it took Amy a year to hone in on BYKlyn's, but when she did, it paved the way for the studio's future. "Community and inclusion and [the mentality that] everybody rides" were values that helped the brand grow into what it is today. It's a boutique studio for anyone interested in cycling, not just "the 1%," as Amy mentioned in our interview. In addition, there's an emphasis on representation and the idea that you don't have to look or act a certain way to enjoy physical fitness. Instructors and participants range in body type, age, and ethnicity; much like the Brooklyn community, there is no one-size-fits-all when it comes to cyclists.
Since the pandemic, BYKlyn, like many fitness studios across the country, has had to develop innovative ways to interact with its client base. A situation that many studios saw as a setback was a chance for Amy to look forward and end up with one of her brand's most significant breakthroughs, outdoor fitness.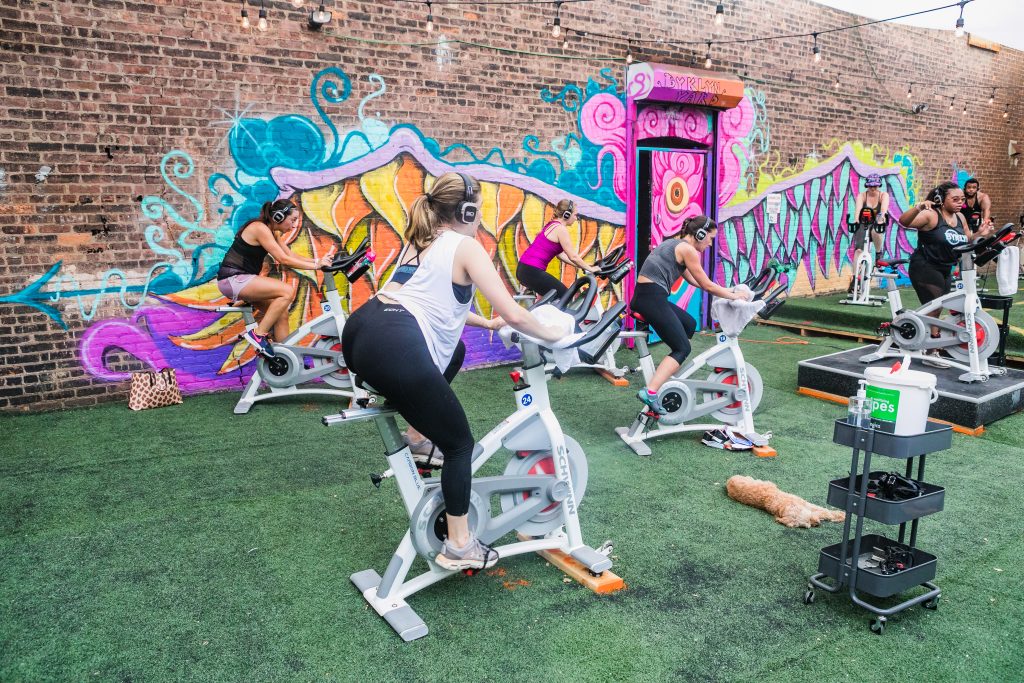 The BYKlyn Yard ran classes outside, becoming New York City's first permanent outdoor cycling studio. After 17 months, the outdoor facility closed for the winter, and a BYKlyn pop-up opened in its place. However, as spring approaches, so does an exciting new era for the studio.
BYKlyn will make its third move since the pandemic began, landing in a permanent home in the Boerum Hill area of Brooklyn, at 309 Bergen St. Amy describes the facility as an "open-air bike deck with a gorgeous 100-year-old roof with skylights and no wall on two sides." Although during the winter months, they will utilize garage doors to enclose and subsequently heat the bike studio. "It's truly an open-air bike deck and indoors, there will be showers, bathrooms, lockers, and a full front studio for strength and stretch classes."
So much of fitness is about self-discipline and repetition, but it's easy to fumble and miss out on some of your biggest wins without a community to support you. The community Amy has built around her business has given her – as well as her riders – so much. It allowed highs like opening a state-of-the-art open-air bike deck and becoming a beacon for the spin community at the height of the pandemic when most other studios closed their doors.
While many of Amy's successes are attached to her roots in fitness, there's also something about having solid mentors and pillars of inspiration. Although many fierce female leaders already helm group fitness, as the consumer base is a more "women-oriented business," Amy credits a mentor she's known since the literal beginning.
Amy's mother, Rita, started ReMinkie Memory Bears when she was 62, she is now 88, and the business is still going strong. Not even age can limit entrepreneurship, and Rita is constant proof that anything is possible – at any age – if you go after it with all of your inner strength. Amy's community-based approach to business is reiterated in her mother's business practices, her dedication to employees, and a keen awareness that everyone has different aptitudes. "You should make the job fit the person; you don't have the person fit the job."
Finding someone you can relate to in any aspect of life, fitness, or business is essential to honing in on your aspirations. If Amy's story resonated, there are two pieces of advice she believes are vital to a person, woman or not, looking to breakthrough in their career.
First, understanding that everyone has strengths and weaknesses. "If you know your strengths, it allows you to compensate for your weaknesses by seeking advice from others." That's why Amy's community-based mentality has been so successful; she's found individuals who fill in the gaps where she is less capable.
The second vital piece of advice is creating boundaries. Despite understanding that being an entrepreneur can be a 24/7 ordeal, Amy believes it's important to "have some barriers" that allow you to step back from the business. There should always be a cooldown period similar to a person's fitness regime. Rest and rejuvenation are critical to keeping fatigue and exhaustion out of the equation for running a business.
As we close out Women's History Month, we are inspired by so many women. While we've highlighted a few women here, we know every woman has her own story of perseverance, accomplishment, challenge, and success. From Katanjo Brown Jackson to the strong women of Ukraine, we celebrate you today and every day. Gearing Up for Business Is a Lot Like Fitness. Gearing Up for Business Is a Lot Like Fitness