Bullfrog + Baum believes women should be celebrated every day, but we're also happy to celebrate Women's History Month each March. Although women make up nearly 70% of the workforce in the hospitality and tourism industry, they account for less than 20% of general management roles and between only 5-8% of board positions. So while there has been progress, there's clearly still work to be done. 
At Bullfrog + Baum, we are a certified woman-owned business with a team that is 86% female, with 89% of senior roles held by women. We work each day to mentor and encourage the young women on our team and to celebrate the women we work with every day. We're also proud to represent several pioneering women across the industry who are using their expertise to elevate the experiences and products their companies offer. Here are a few of these inspiring women.
Lorena Vasquez of Zacapa Rum is one of the few female Master Blenders in the world. She doesn't consider her role with Zacapa a job, but rather a passion, pouring her heart and soul from start to finish. Handcrafted with the utmost care in Guatemala, the Zacapa Rum process is guided and repeated all under the critical eye of Lorena until reaching the maturity and complexity of flavors that shape the ultra-premium rum. Not only does Lorena bring her knowledge of rum to create an exceptional product, but she also brings her Guatemalan roots and vibrant personality to everything she does, influencing the soulful spirit and convivial nature of the brand.
Jamila Nicole Ross is a passionate hospitality professional and the Co-Owner of The Copper Door B&B in Miami. She began her career at a young age working part-time at restaurants in New York's Hudson Valley. She went on to attend the Culinary Institute of America in Hyde Park, New York, and has since worked under some of the best chefs and hospitality groups around, including James Beard Award-winning Chef Jose Andres and Marriott. After earning her Bachelor of Science in Hospitality Management from Johnson & Wales University, Jamila spent 11 years working in major cities, including New York, Los Angeles, Miami, Kuwait, and Dubai. Her love for travel, dedication to exceptional service, and respect for great food came together in the creation of The Copper Door B&B, a bed and breakfast fitting for South Florida as it emulates Miami's culturally driven history, art, and culinary expertise through its guest experience.
Born and raised in the Chicago area, Bobbie Lloyd began her epicurean journey at just eight years old with her first cooking class. She cultivated this interest through her formal education at the Modern Gourmet Cooking School in Boston and continued to hone her skills in some of the country's most celebrated kitchens, including American Accent in Brookline, Massachusetts, and Union Square Cafe in New York City. Bobbie has devoted her life to baking, cooking, and feeding others. As Chief Baking Officer at Magnolia Bakery, Bobbie played an integral role in expanding the bakery from its iconic original location in New York City's West Village to multiple locations across thirteen cities around the world. She brings the from-scratch, homemade essence of Magnolia Bakery to customers through the creation and development of new recipes and the perfection of old favorites. Known to many as a judge on season four of Next Great Baker and a guest judge on Cupcake Wars, Bobbie has become the face of Magnolia Bakery—and baking—in America. Her most recent project is Magnolia Bakery's newest cookbook, The Magnolia Handbook A Complete Guide for the Home Baker, which debuted in October 2020.
Anna Francese Gass is the author of the bestselling cookbook Heirloom Kitchen: Heritage Recipes and Family Stories from the Tables of Immigrant Women—a celebration of the culinary traditions of strong immigrant women and the remarkable diversity that defines American cuisine. In Heirloom Kitchen, Anna brings together the stories and dishes of 40 exceptional women, all immigrants to the United States, whose heirloom recipes have helped shape the landscape of American food.
Her book came about with a lightbulb moment when she realized that she didn't have a record of any of her family's heritage recipes. It began with perfecting her nonna's meatballs and quickly became a much larger project. The experience of recreating and recording the recipes of her family got her thinking: how many other immigrants, who expertly cook for their families every night, store the recipes in their heads? Probably most! Without their creators ever writing them down, would the recipes be lost if no one took the time to watch and learn? Anna didn't want to see that happen, so she embarked on a new project—her "Nonna Project." She traveled across the US to meet with immigrant women, learn about their stories of coming to America and cook their favorite family dishes. During her travels, she met incredible women from South Korea, China, Poland, Lebanon, Brazil, Haiti, Iran, Egypt, Morocco, Ghana, and more, all of who offered unique stories and a window into the culinary traditions of their respective homelands.
Taryn Pellicone and Valerie Zweig are cousins, self-appointed "Soup Ladies," and the gals behind Prescription Chicken. What started as the two delivering soup throughout the Washington, D.C. area in September 2016 has since grown into a full-time business offering homemade soups delivered right to your door, in addition to being available fresh from the deli aisle at your favorite grocery store. Prescription Chicken soups can now be found throughout D.C. and Philadelphia and in grocery stores such as Whole Foods Market, King's Food Markets, and Balducci's in Virginia, Kentucky, Ohio, Maryland, Washington, D.C., Pennsylvania, New Jersey, New York, and Connecticut.
Dr. Audrey Ross is a ten-year veteran of the Country Life Vitamins family and currently serves as Senior National Educator, providing product training for retailers and consumers throughout the United States. With an extensive 30-year background in the Natural Products industry, Dr. Ross has a PhD in Naturopathy, is a Master Herbalist, and has a degree in Marketing. She regularly conducts seminars on general nutrition, weight loss, managing chronic health challenges (including diabetes and hyperlipidemia), stress reduction, label reading, and proper supplementation, making her an extremely valuable and knowledgeable asset to the Country Life Vitamins team. Dr. Ross' passion for and commitment to educating others about the natural products industry has helped her bridge the historical divide between allopathic and naturopathic medical practices.
Growing up in New York City was the perfect inspiration for Julie Mulligan to develop a passion for art and architecture. After being dubbed a 'Star Student' by TIMEmagazine in 2001 at Parsons School of Design, Julie went on to attend The Rice University School of Architecture. After working on museums and residential projects, Julie found her true love for design in restaurants and founded JAMB studio in 2014 to focus on hospitality projects. With hospitality, Julie can watch her projects fully come to life, with people gathering and interacting within the space to create memorable moments that transcend a meal.
In 2015, she and her husband, Chris Barish, opened New York burger sensation Black Tap Craft Burgers & Beer. From the early days, Julie was influential in developing the brand's design story, and she became the brand's Director of Design and Development, overseeing the restaurant's overall design portfolio. She works closely with design teams to manage new openings and take Black Tap's design to the next level, including commissioning local street artists to develop one-of-a-kind artwork for each location. For each location, Julie mixes up the SoHo roots with the energy and spirit of the new locale to create something that is completely unique yet always clearly Black Tap.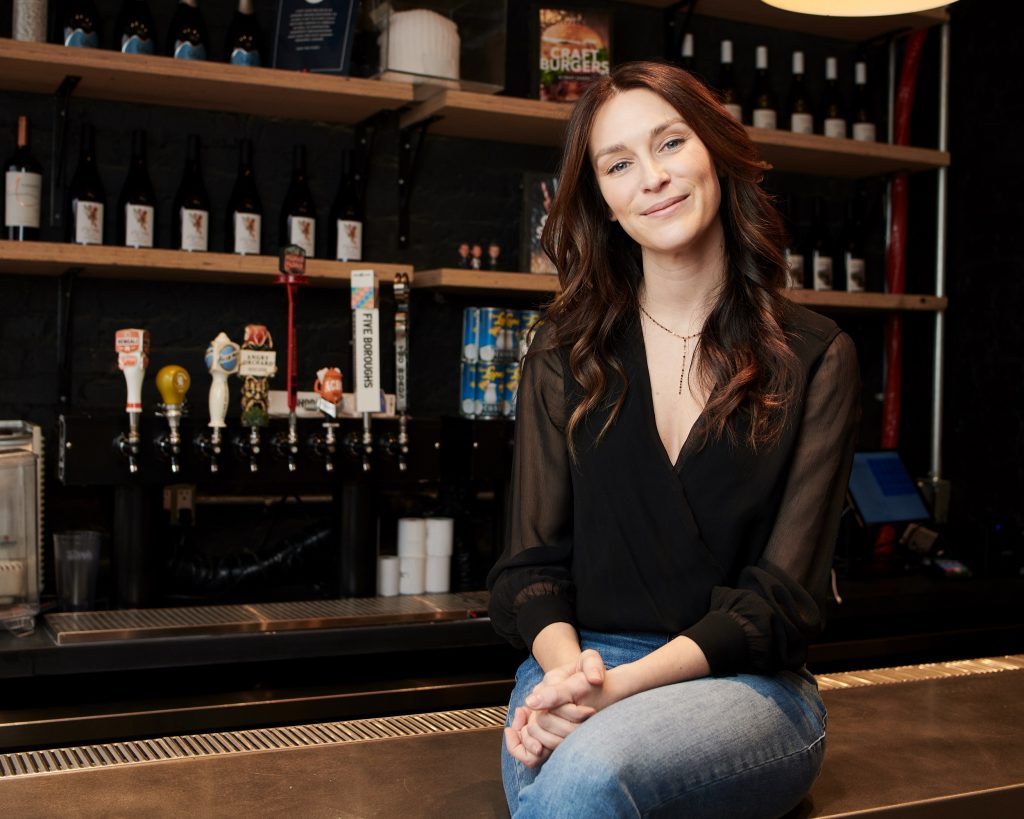 Michele Gaton is a vivacious go-getter whose creativity is boundless, even as she manages to wear about 15 different hats: as a hospitality guru, she is constantly reinventing what her beloved neighborhood Mediterranean restaurant, Extra Virgin, can be. She juggles that with being a mom to two beautiful boys, whom she helped school at home during the pandemic. And as a Black business owner, she also advocates for her community and mentors ambitious talent inside and outside the restaurant. Michele is a true example of how women really do run the world. She plays a huge role in putting the "extra" in Extra Virgin– making every guest's experience unique, memorable, and one they keep coming back to.