Big or small, we've got the holiday party locations for your seasonal celebration!
If your party needs some old-school hip-hop vibes + a killer Instagram wall…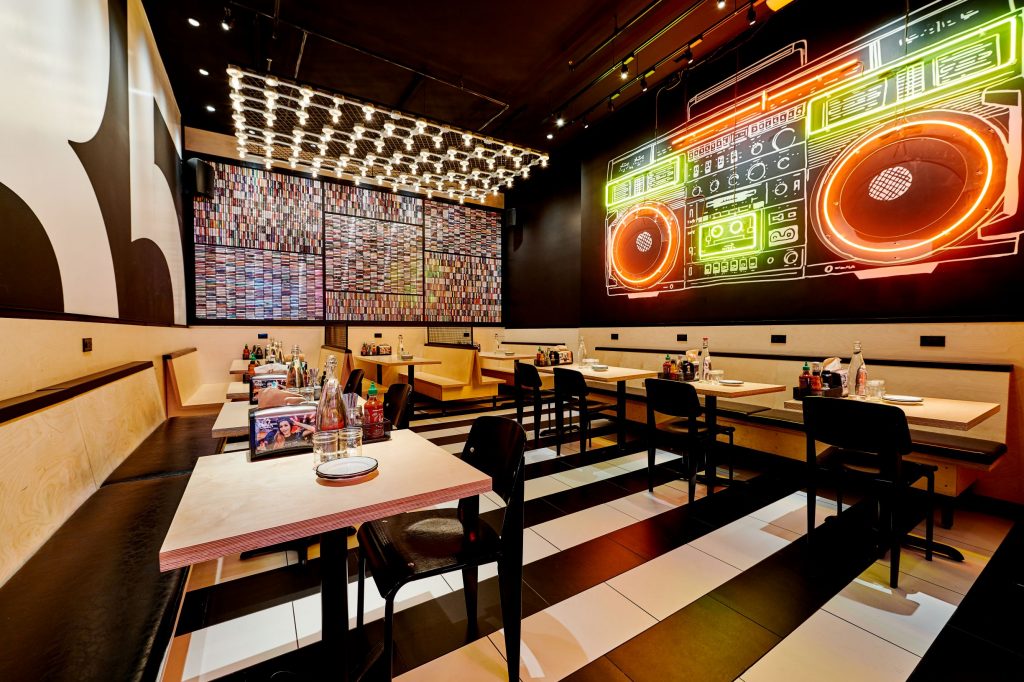 Holiday parties are where Instagram memories are made, which means you'll need some photo-ready backdrops in addition to delicious burgers and CrazyShake™ milkshakes. Designed by the Rockwell Group, The Cassette Room at Black Tap 35th in NYC has a made-for-selfies wall installation with 4,000 cassette tapes, throwing it back to the days of mix tapes and setting the tone for fun. The rest of the room oozes with Black Tap's signature '80s, and '90s hip-hop- and pop-inspired vibes.
Capacity: Up to 36 seated at two communal tables; up to 55 for cocktails.
How to book: Submit a booking inquiry here or email events@blacktapnyc.com.
(And if you happen to be in Las Vegas, Black Tap at The Venetian has you covered, with a private room and patio for all your party needs. Click here for details on Black Tap's private dining venues across all locations.)
If you're saying "no" to ugly sweaters and "yes" to sophisticated-chic…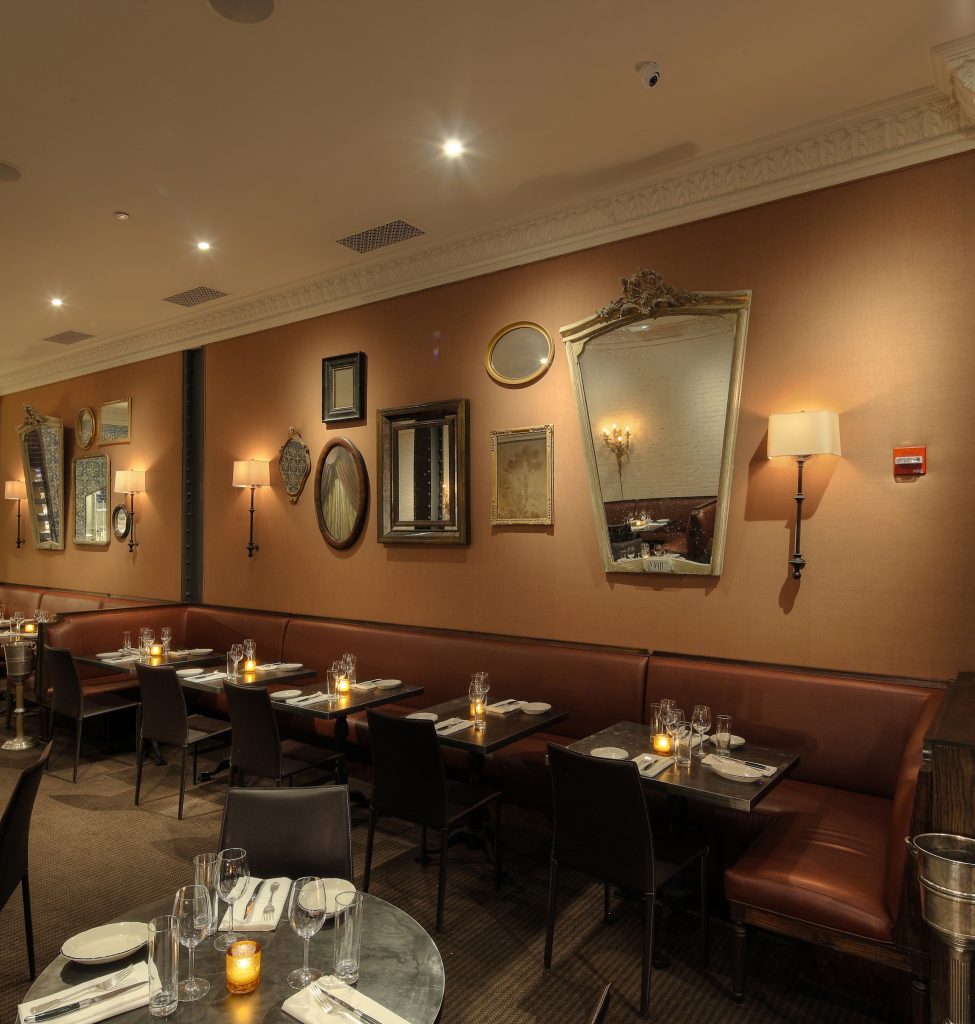 Easy elegance is always in style, and the charming Rotisserie Georgette on Manhattan's Upper East Side has that and more. Owner Georgette Farkas oversees every detail of this restaurant that truly feels as if she's invited you into her very own home. While the restaurant design and vibe is definitely grown-up and sophisticated, the service and energy is warm and inviting…. and the roast chicken is among the city's very best. All dishes are served family-style and highlight seasonal and French-inspired fare, including a variety of vegetarian selections. Book the Chef's Table for your closest friends, and you'll have a literal window into the flurry of kitchen activity. Find out more info here.
Capacity:
Up to ten at the Chef's Table; up to 100 seated
Up to 100 seated in The Bar + Main Dining Room; up to 200 for reception-style
How to book: Submit a booking inquiry here or email maitred@rotisserieg.com.
If you're holding onto summer by throwing an ice cream social this winter…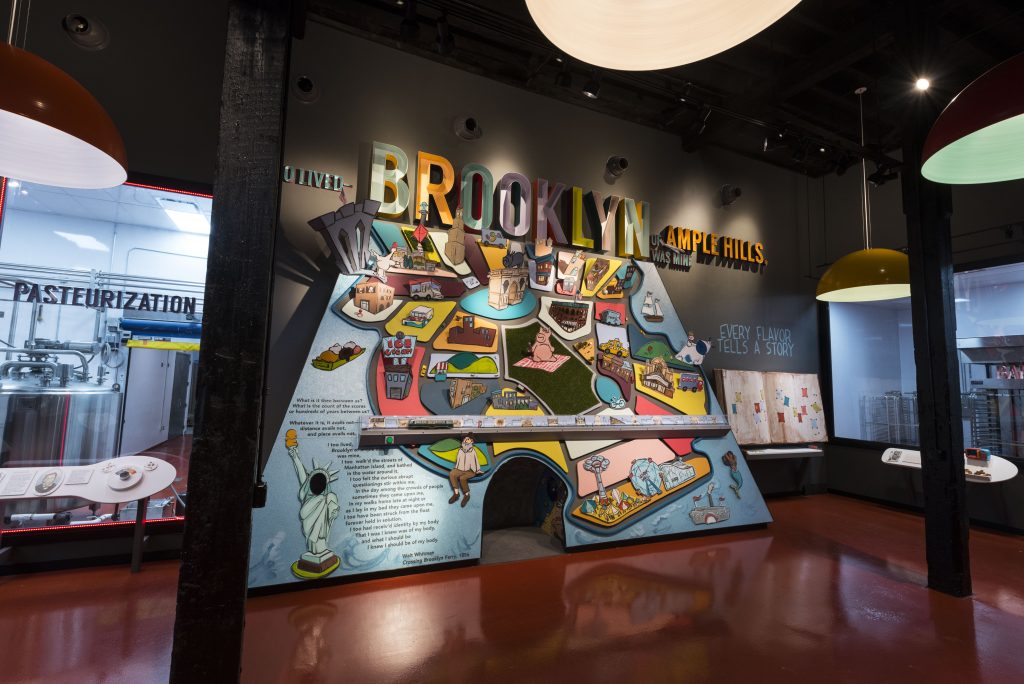 Who said ice cream is just for summer? Flip everyone's expectations by hosting a holiday ice cream social at Ample Hills Creamery's Red Hook Factory in Brooklyn. Hop on Ample Hills' one-of-a-kind ice cream churning bicycle to churn a custom ice cream flavor, or opt for a private hands-on ice cream class with your entire group. (And if you're on the West Coast, private dining packages are available at the Los Feliz scoop shop too!)
Capacity: Varies by private party options; get more details here.
How to book: Submit a booking inquiry here. holiday party locations
If you're hanging out with pescatarians and sushi lovers (and some carnivores too)…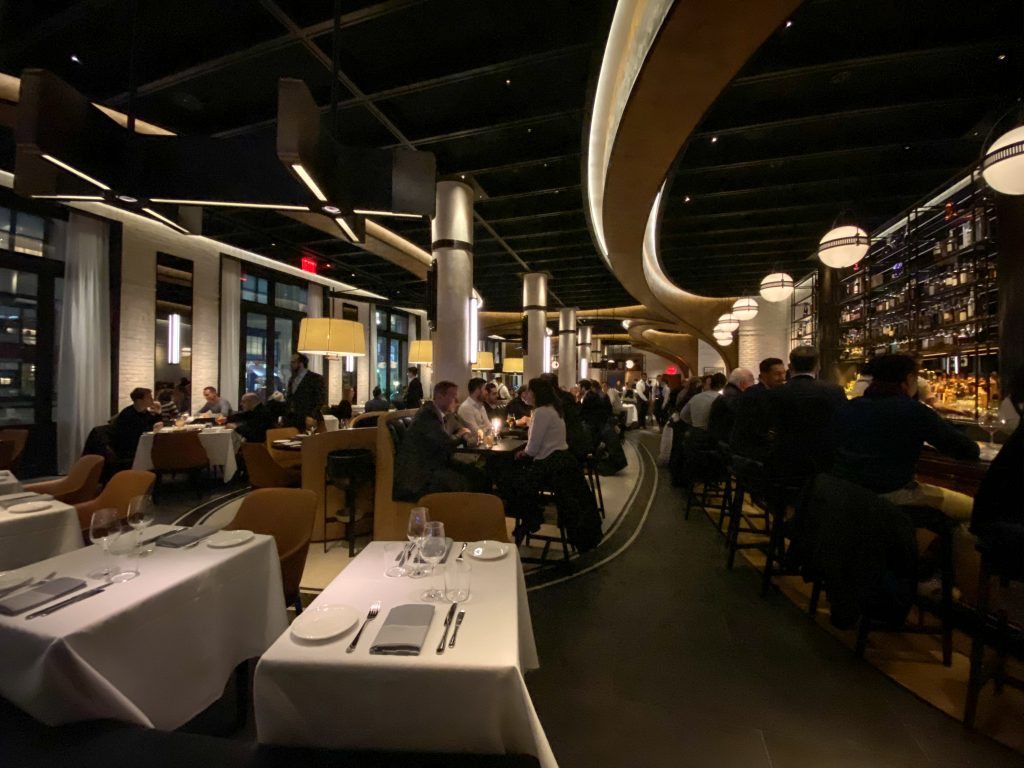 Newcomer Oceans is the spot if your group leans more towards "surf" than "turf" (although there's plenty of that here too). Specializing in locally- and globally-sourced seafood, the stunning restaurant offers several private dining rooms for both intimate gatherings and large-scale celebrations.
Capacity:
Up to 14 guests in a semi-private space on the main floor
Up to 8 guests in an intimate, hidden wine cellar
Up to 60 guests in the downstairs private room (that doubles as wine storage for 6,000 bottles!)
How to book: Call 212.209.1055 for inquiries.
A rooftop soiree in December? (Yes, we have a place for that…)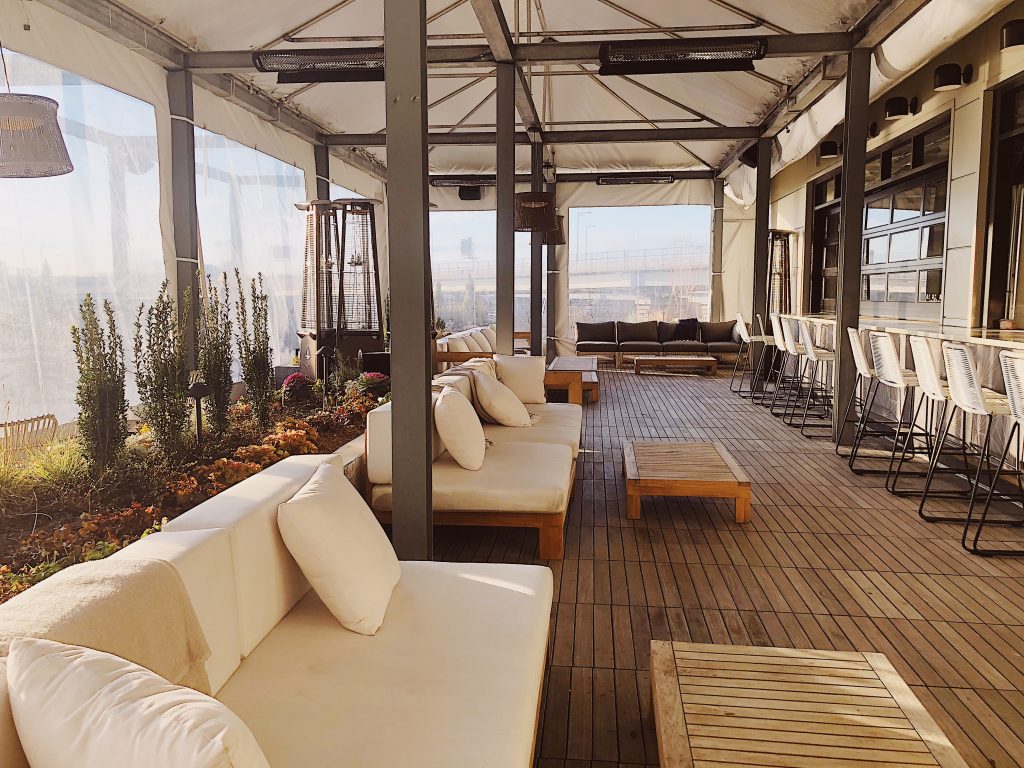 Who said you can't throw a rooftop shindig in the wintertime? Michelin-starred chef Nick Stefanelli's three-story Italian culinary complex Officina features many event options for those in Washington, D.C. One notable choice is Terrazza, an enclosed rooftop inspired by the terraces of Rome, with exceptional views of The Wharf.
Capacity: Up to 60 guests. Check out the other private dining options at Officina here.
How to book: Submit a booking inquiry here.
For celebrated pizza like you'd get in Rome… without leaving NYC…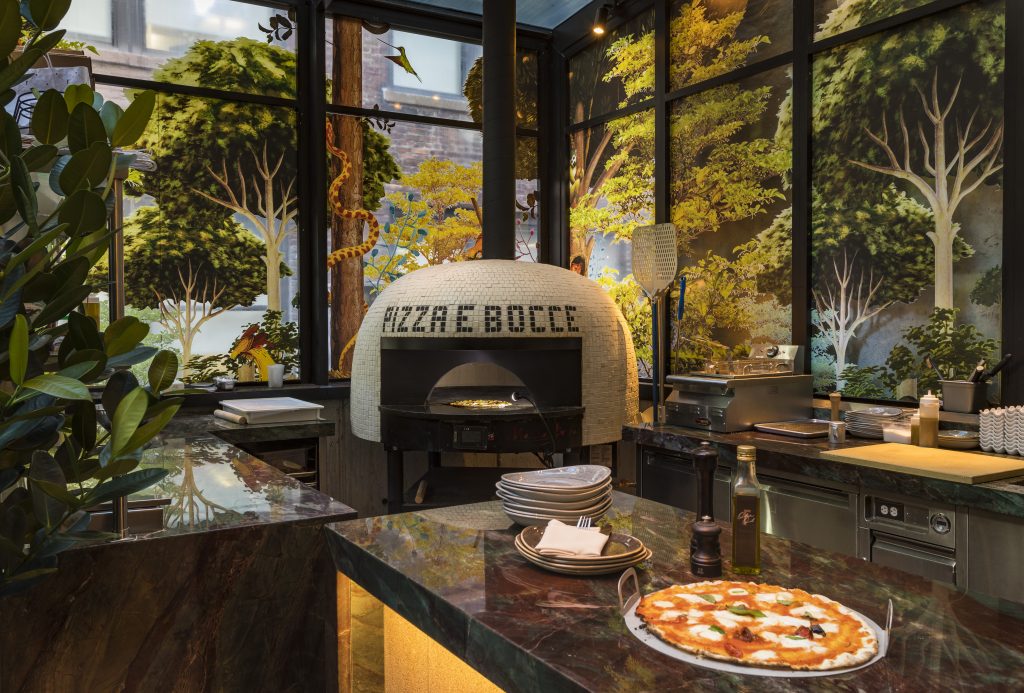 Looking for something more casual with a side of activities to keep your group entertained? Feroce Pizza & Bocce Bar, located on the second floor of the Moxy Chelsea, is the place for you. The pizzeria serves tonda-style pizza made in partnership with legendary Roman bakery Roscioli, classic cocktails, and traditional Italian snacks in a relaxed, yet energized atmosphere. Grab a slice and a sip while you take turns at the bocce ball table.
Capacity: Up to 18 guests seated with full buy-out; or up to 10 guests for a cozy pizza party.
How to Book: Email FeroceNYReservations@TaoGroup.com.
For a holiday location that keeps it classy and classic…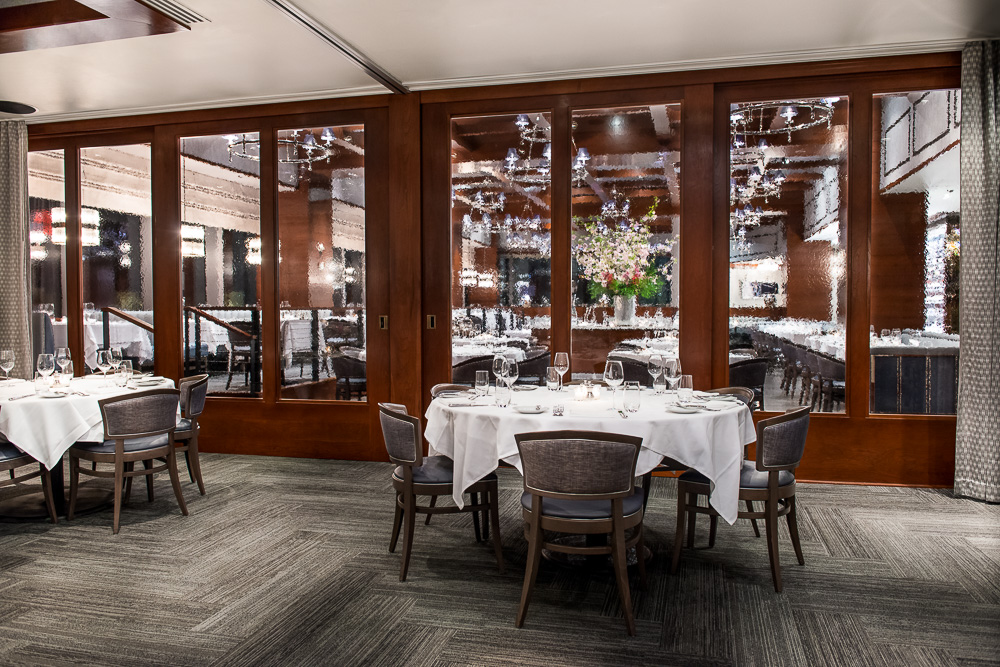 Make an occasion out of it at Michael Lomonaco's Porter House Bar and Grill, voted The Absolute Best Steakhouse by New York Magazine. Centrally located in Manhattan's Columbus Circle, Porter House always impresses with its sophisticated interiors and classic menus. In addition to a more formal sit-down dinner or lunch, Chef Lomonaco's selection of small plates and hors d'oeuvres are ideal for more casual cocktail receptions.
Capacity: Up to 85 seated in the private dining room; see all private dining options here.
How to book: Contact Deena Krobot at 212.823.9477 or dkrobot@porterhousenyc.com.
If you've ever wanted to dine like an industrialist, JP Morgan's dining room is available…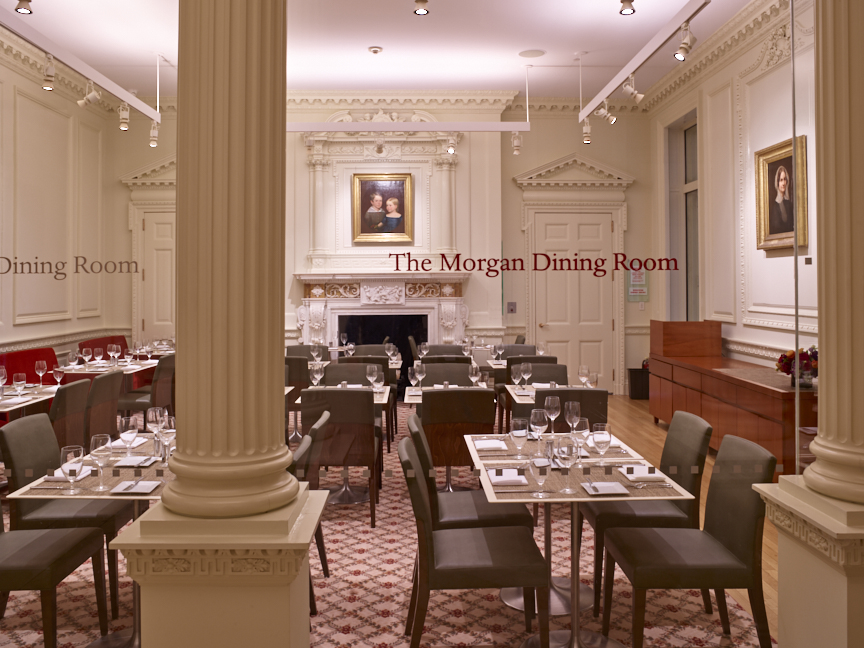 The Morgan Library and Museum's restaurant, The Morgan Dining Room, was the actual private dining room for financier JP Morgan and his family. The intimate dining room is located within the restored 19th-century brownstone that was once his home. Now that's history! While a full buy-out is only available to museum members, The Morgan Dining Room offers customized events during daytime hours for the rest of us.
Capacity: Up to 22 guests in a portion of the Dining Room.
How to book: Call the restaurant at 212.683.2130, or 212.685.0008 ext. 590.
If a tasting menu is a must for that holiday party…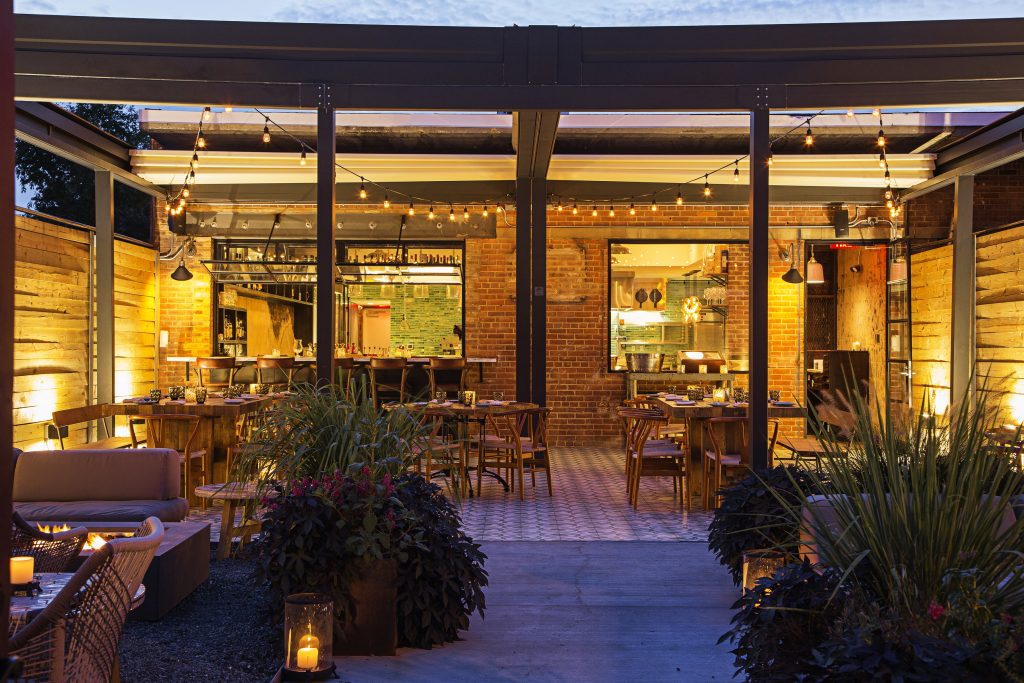 The Michelin-starred Masseria in Washington, D.C. offers several warm and welcoming spaces for semi-private dining, each with a distinct style and appeal. From the Chef's Table, located inches away from the bustling open kitchen, to the 'outdoor' bar at the year-round Pergola, Chef Nicholas Stefanelli's customized menus offer luxurious and celebratory dining options. Take a look at all the private dining options here.
Capacity:
Up to six people at the Chef's Table
Up to 30 guests at the Pergola
How to book: Contact the events team at info@masseria-dc.com.
If you or your guests are catching a train from a location connected to Grand Central…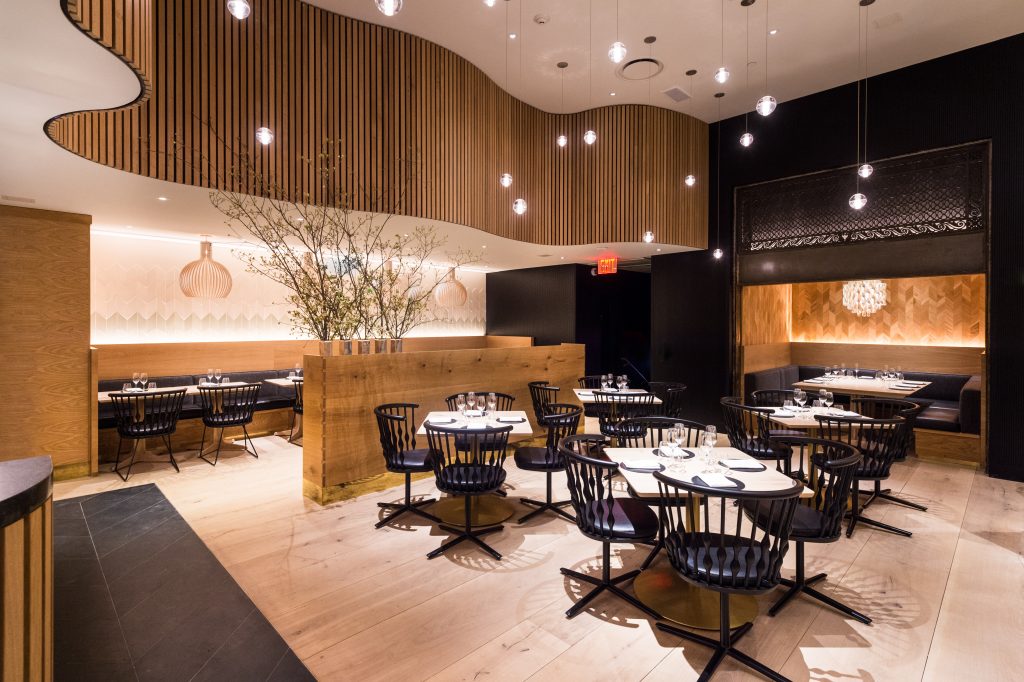 Impress your guests and guide them to one of NYC's hidden culinary gems by booking a spot at Agern, the seasonally driven and Michelin-starred restaurant tucked inside Grand Central Terminal. This very special – and somewhat unexpected – dining room will provide your guests with the experience of discovery… and deliciousness. holiday party locations
Capacity:
Up to 24 seated guests in the semi-private dining room
Up to 80 seated or 125 for cocktails in the main dining room with buy-out
How to book: Email events@meyersusa.com.
If Italian food is the only food for you…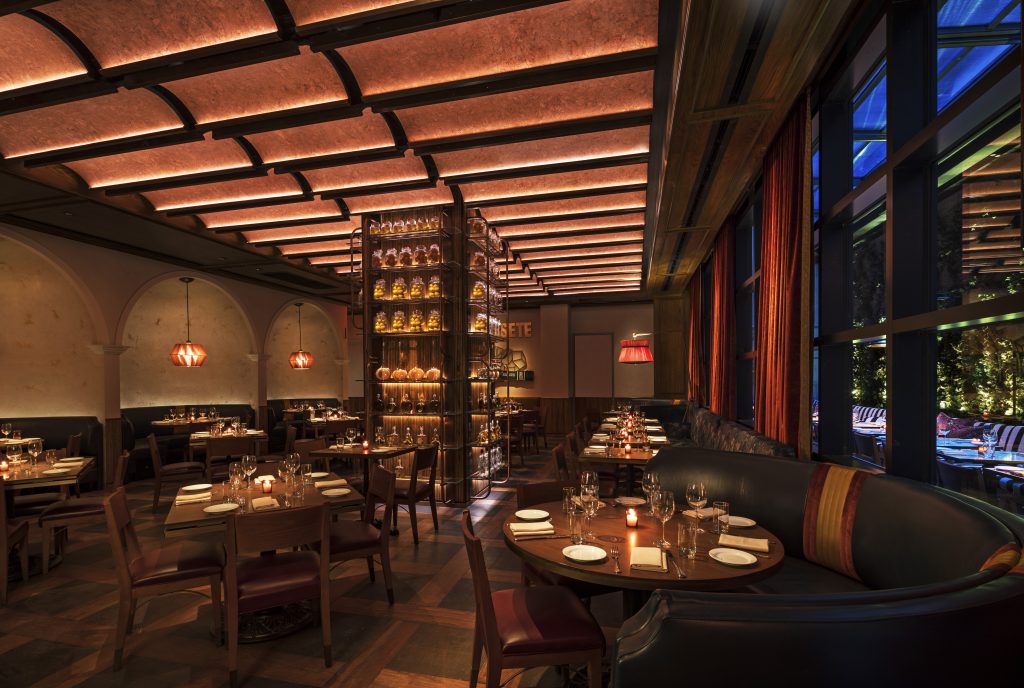 Instantly transport your guests to Italy at Feroce Ristorante, the regionally-inspired Italian restaurant by Francesco Panella of Antica Pesa (Rome and Brooklyn), and Tao Group Hospitality. Located within the Moxy Chelsea, Feroce features both classic and modern Italian dishes – many from Italy's lesser-known regions. holiday party locations
Capacity:
Up to 86 guests in the main dining room
Up to 15 guests in the cozy private dining room
Up to 30 guests in the indoor/outdoor garden terrace
How to book: Email FeroceNYReservations@TaoGroup.com.
If you like a downtown holiday party, a Mediterranean-inspired menu, and Chef Bobby Flay…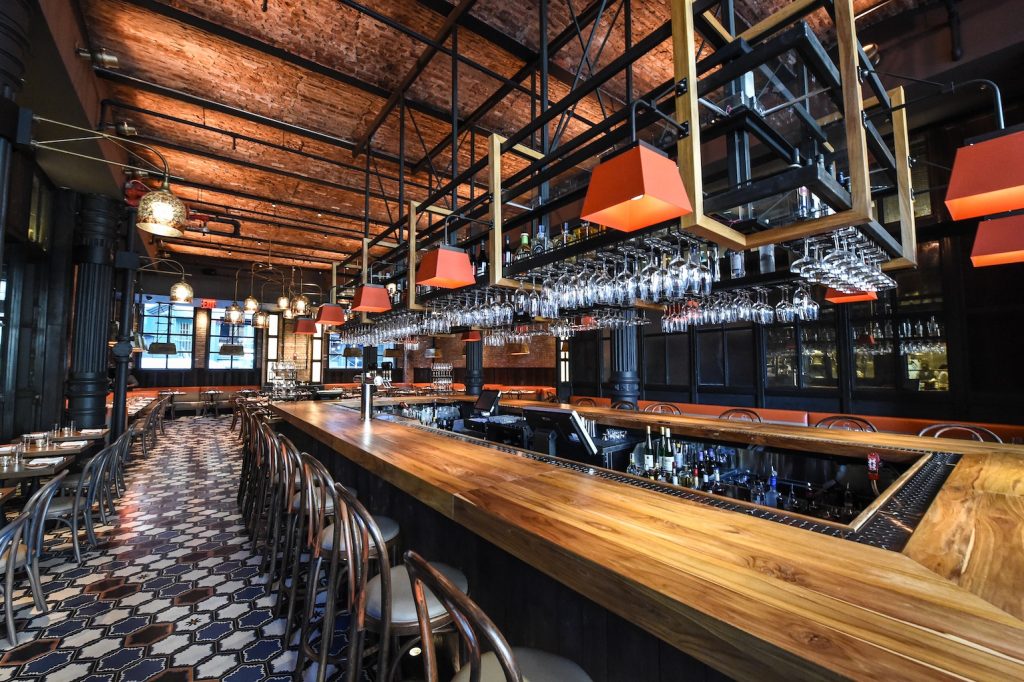 Located in the center of Manhattan's NoHo neighborhood, GATO offers a versatile and sophisticated event space perfect for any occasion. With personally curated menus from James Beard Award-winning chef Bobby Flay, GATO combines exceptional Mediterranean-inspired fare with an expertly designed space, always inviting and effortlessly impressive. Available for complete or partial buyouts, the restaurant offers a personalized experience, making each event unique, with customized menus, cocktails, and a global wine list.
Capacity: Up to 150 seated with full buyout; inquire directly for additional options. holiday party locations
How to book: Call 212.334.6400 for inquiries.
If your holiday party locations need music, munchies, and milkshakes…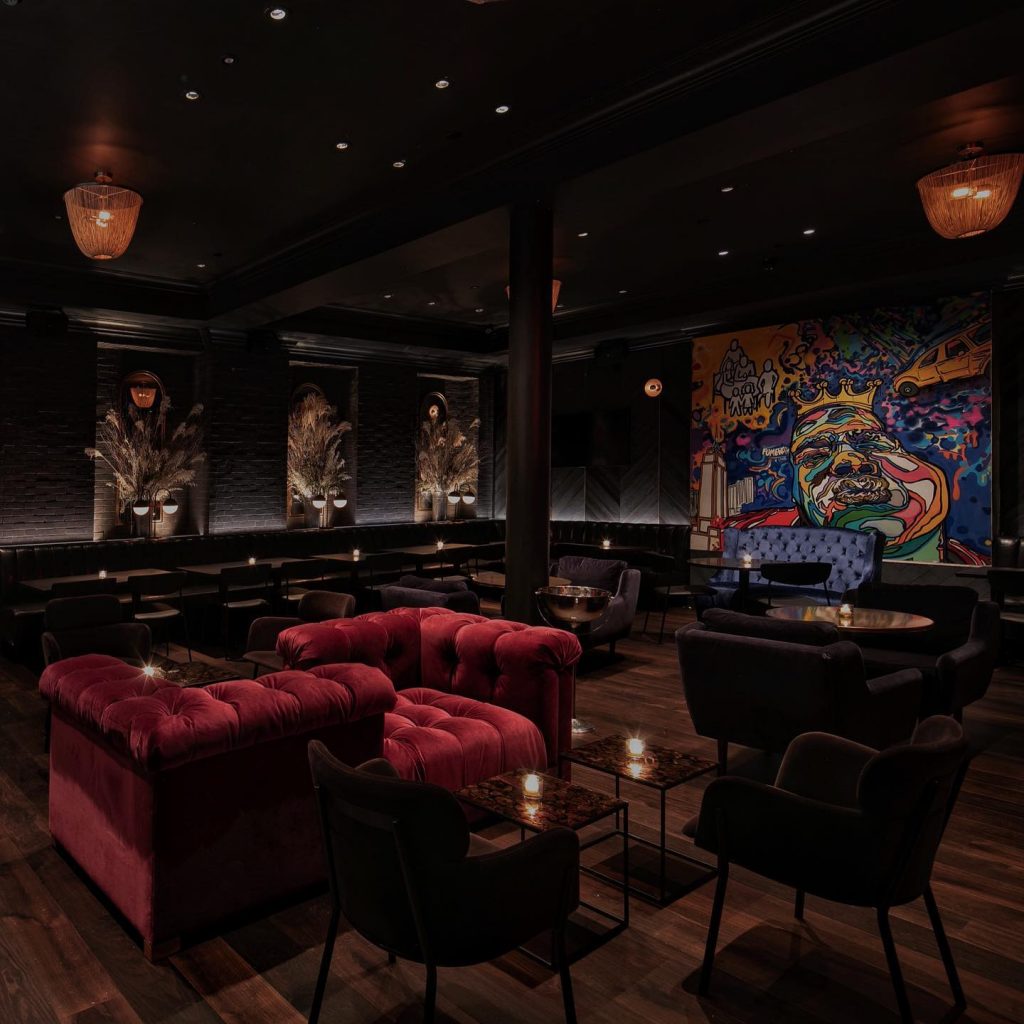 Lot 15, the newest bar from Black Tap owners Chris Barish and Julie Mulligan, is right next door to Black Tap 35th in New York City's Herald Square. Centrally located, Lot 15 is the ideal spot to get your group dancing and celebrating. Customize your Black Tap menu with everything from fried pickles to those famous CrazyShake™ milkshakes. And just in time for the holidays, if you book any weekday before 4 PM, or any Monday or Tuesday night in November, December, or January, Black Tap will upgrade your bar from standard to premium open bar (event must be for at least 30 guests).  holiday party locations
Capacity: Up to 150 people.
How to book: Submit a booking inquiry here or email events@blacktapnyc.com.
If you want an elegant soiree with pie fit for a president…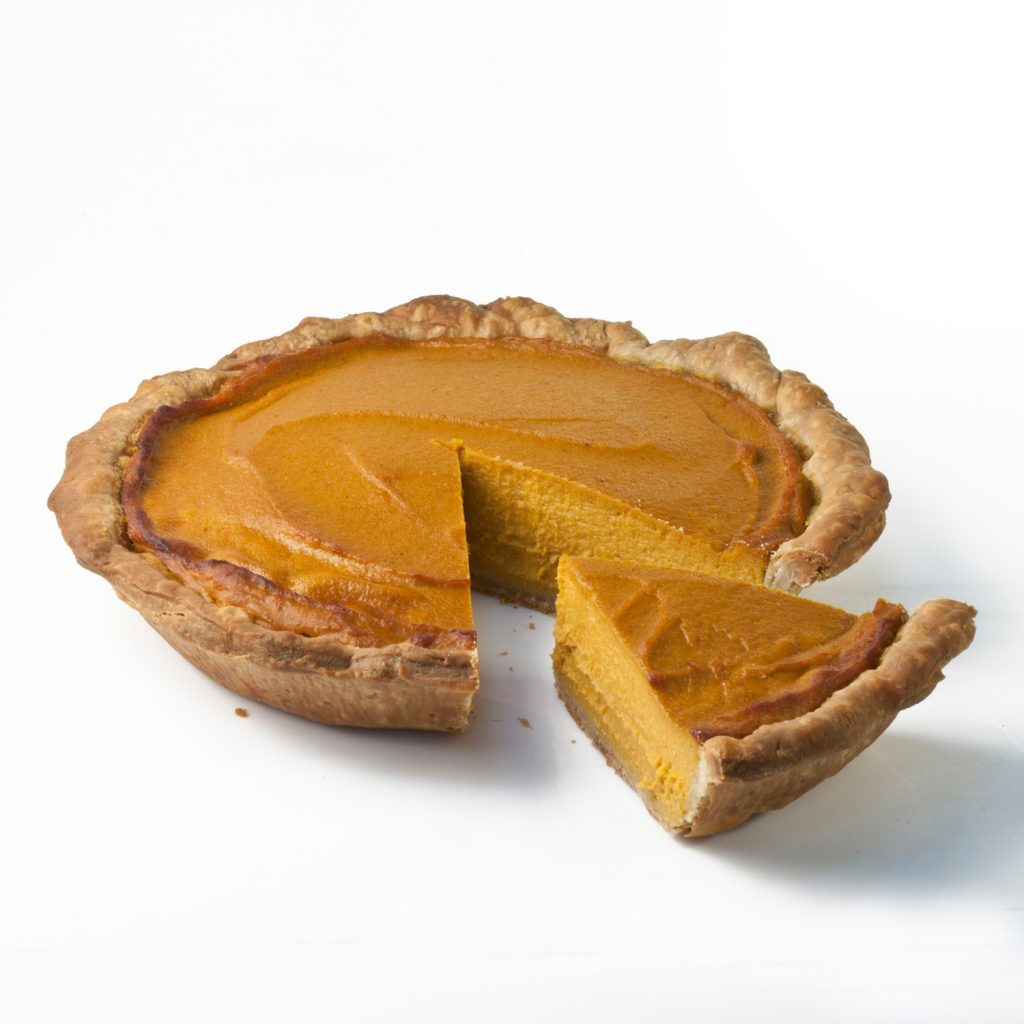 Bill Yosses, the former White House executive pastry chef, recently opened Palais by Perfect Pie, his first restaurant on Manhattan's Upper East Side. The bi-level restaurant includes a private second-floor space that is perfect for family gatherings, elevated afternoon teas, or private cooking classes taught by Bill himself.
Capacity: Up to 50 people.
How to book: Contact Charlie Fabella at 646.491.0247 or Bill Yosses at 917.406.0347.