Keep your finger on the pulse with this collection of articles that piqued our interest this month.
Jessica Alba's Japanese Oasis
Jessica Alba revealed in this month's issue of Travel and Leisure that, during her family vacation to Japan, the luxurious HOSHINOYA Kyoto ryokan was her favorite spot. "The scenery was breathtaking," Alba said. "The hotel felt like a magical place situated high atop the riverbank and nestled between many trees."
Ohmmm
Healthyish takes you on an existential journey through the popular meditation app, Headspace, and how it can change your relationship with food.
All Apologies
Let's all stop apologizing for the delayed response in our emails! Science of Us delves into our evolving emailing habits and the potential issues it causes.
Giving Back
Troy Guard, chef and owner of TAG Restaurant Group, has made it his mission to help students cook up their own healthy meals at National Jewish Health's Morgridge Academy in Denver, a school that serves children who suffer from chronic illnesses. Read the expose here.
Traveling Gourmands
A recent travel survey in MSN Lifestyle revealed 22 million Americans will be taking culinary-focused vacations in 2017. Pack your bags and don't forget your appetite!
Free Art
Art History Majors rejoice! The Guggenheim Museum has graciously opened its archives to the public, sharing over 200 free art books online.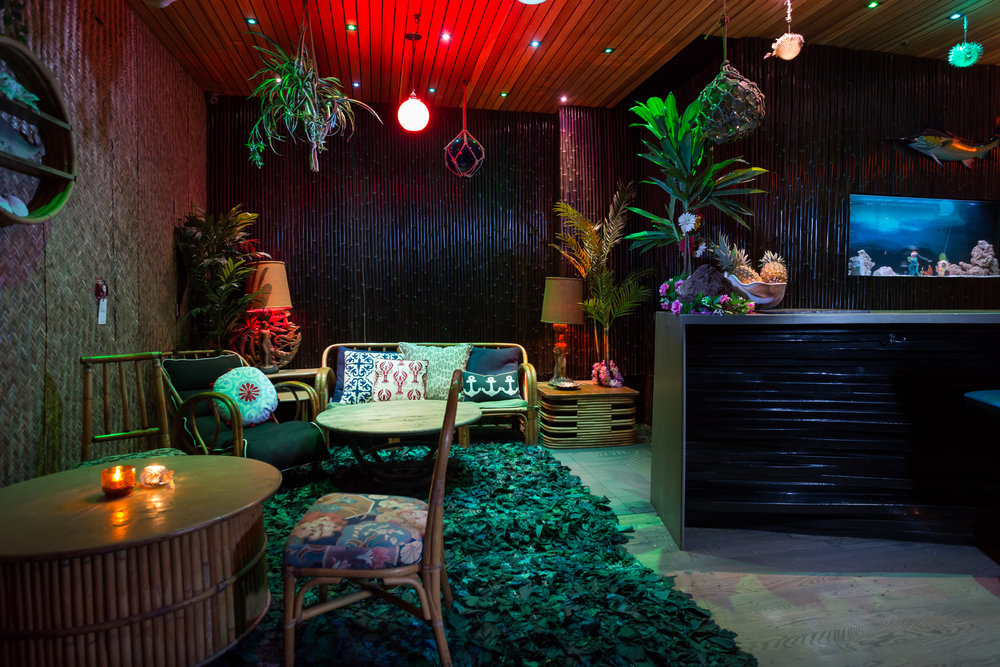 Little Buddy, photo taken by Andrew Holtz
Shhh! Don't Tell
USA Today reveals each State's most hidden bar or restaurant – totally blowing their cover! They even blow the lid off of Little Buddy, a discreetly tucked away tiki bar in Asbury Park, NJ.
You Have to Watch What Happens When This Dessert Melts
Delish posted a video of Bodega Negra's Don Huevo Sphere Dessert. Watch the dessert being made and then "taken apart."
Who Said It?
The ever sarcastic McSweeney's asks the question, Who Said It: My SoulCycle Instructor or an Existential Nihilist – and honestly, we can't tell.
Brunch + Learn
Porter House's inaugural Bunch + Learn series launched this month with a panel of experts exploring the topic of food photography in the Instagram age. am New York reports that there will be future panel discussions that will host experts in entertainment, publishing and media industries.
Places to Love
Samantha Brown's Places to Love series, which is scheduled to air in early 2018 on PBS, will shine the spotlight on Houston, as well as other destinations. Her show will take viewers on a trip to little-known spots and haunts, focusing on food, drink, art, design, culture, and adventure.
Cuddle Up
Hygge (pronounced HOO-ga) is the Danish philosophy that you should be living your coziest life. A Cup Of Jo is swearing by this manifesto and we aren't complaining in the slightest.
Dumpling Burgers
Gothamist reveals that the Indian-Chinese restaurant, Chinese Club, is channeling Tibet with their latest special – the Momo Burger. The centerpiece of these mouthwatering burgers are "momos" which are Tibetan dumplings that Chef Salil Mehta makes with beef cheeks and oxtail broth, then topped with cheese, spicy mayo and lettuce.
---
B+B News
Our team is growing! We're excited to welcome our new Account Coordinator Farah Lopez.