Can pizza save the world? Or at least maybe help fuel the recent youth movement to fight gun violence? With high school anti-gun movements, that's the question being asked by Mark Hinchliffe, a junior partner of Smith, the Asbury Park-based creative collective behind Jersey Shore pizza hotspot Porta. Hinchliffe and his partners have been inspired to show solidarity with the young activists protesting the lack of political action to prevent gun violence after America's second-deadliest school shooting claimed the lives of 17 students on Valentine's Day at Marjory Stoneman Douglas High School in Parkland, Florida. Smith is throwing the energy of their three Porta locations behind Pizza Saves, an initiative they hope will succeed in partnering local pizzerias with students across the country who intend to participate in the National High School Walk-Out for Anti-Gun Violence on April 20th.
"Often when we're faced with something so enormous, people get paralyzed because they don't know what to do to affect change," Hinchliffe explained. "These students are already creating change. We aren't saying pizza is the thing that's going to cause change. We just want to let these kids know that they've been heard and that we are here to support them through something as simple as giving them comfort food on a day that might be painful and stressful when they're going to have to show tremendous strength."
At last count, the walkout planned for Friday, April 20th (the 19th anniversary of the Columbine shooting), had attracted 225,200 pledges on Change.org to participate. The goal? "Walk out of school, wear orange, and protest online and in your communities." Hinchliffe, who was in high school when Columbine happened, said he hadn't personally experienced gun violence firsthand, adding, "If you are an American, gun violence has touched your life in some way."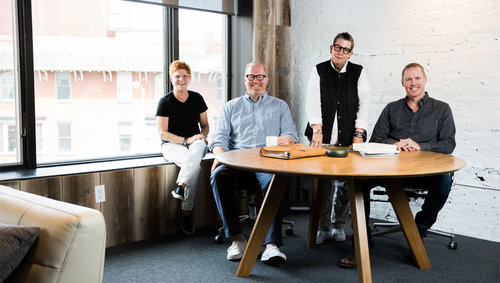 Photo courtesy of Smith
This week, the Smith group launched the Pizza Saves website, where pizzerias can offer to donate food to local students, teachers, and administrators participating in the walkouts nearby and where the student activists can formally request pizza be delivered to their high school. Hinchliffe and Smith hope to work behind the scenes to coordinate the efforts to connect activists and pizzerias to help fuel the walkout. They also plan to help willing restaurants, pizzerias, or pizza trucks that don't have a local high school participating nearby to donate pizza sales to Every Town for Gun Safety, a nonprofit organization that advocates for gun control and against gun violence.
These powerful students are taking a stand for their futures, and for ours.
"We're ready to move with velocity on this intention in order to turn it into reality," said Hinchliffe, who is energized to share his sense of urgency around this initiative. "It is an utter lack of imagination to say that nothing can be done. Everything can be done. Everything must be done. This is our something."
Pizza Saves originally started four years ago with a less selfless goal, promoting Smith's own restaurants. In one YouTube video, the performance artist Matthew Silver can be seen dressed as a monk spreading the "gospel of pizza" to promote The Monk Room (since closed). But what started as a funny restaurant promotion soon morphed into something bigger, a way to reach out to the community and help those in need.
Since then, there have been multiple local initiatives whose proceeds have gone to causes like the David Lynch Foundation and the American Civil Liberties Union (ACLU). Hinchliffe views the walkout as an opportunity for their restaurants and others across the country to do something selfless on a national level.
"These powerful students are taking a stand for their futures and for ours," the Pizza Saves site explains. "They shouldn't have to worry about where their meal is coming from on this day."
If you're a student, administrator, or school hoping to connect, visit PizzaSaves.org. You can also visit Pizza Saves on Instagram (@pizzasavesfoundation), Twitter (@pizzasavesfndtn), and Facebook (@Pizza Saves).
If you enjoy reading about causes like this, check out our blog for more.
High School Anti-Gun