Most New Yorkers flee the city to celebrate this unofficial start-of-summer holiday, but you can beat the traffic – and the mosquitos – with a staycation, right in your own backyard! You don't need a grill to fill your barbecue cravings, our curated list of Memorial Day favorites will have you feasting with your friends in no time. Trust us, with this line-up, you'll be happy you stayed put.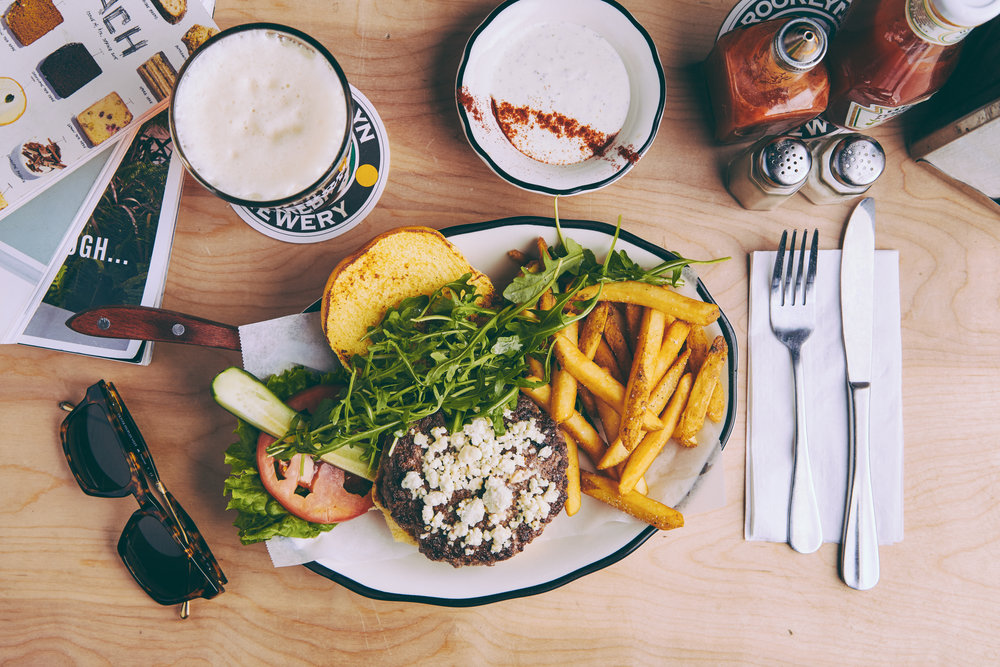 Black Tap's Greg Norman burger, photo courtesy of Black Tap
Black Tap Craft Burgers & Beer
Nothing screams "holiday weekend" more than a perfectly grilled burger with all of the trimmings and Black Tap's award-winning burgers are just what you need to curb your hankerings. Order their aptly named All American burger, made with Pat LaFrieda beef, lettuce, tomato, pickles, american cheese, and special sauce, or the Greg Norman, made with wagyu beef, house buttermilk-dill, blue cheese & arugula – which won the People's Choice award at The NYC Wine and Food Festival Burger Bash in 2015 and 2016.
Katz's Delicatessen
Is there anything more fitting for a grill-out than a hotdog with that perfect *snap*? Although Katz's Deli may be best known for the pastrami, Katz's Frankfurters are legendary in their own right. These grilled, all-beef hot dogs are served on a bun with a selection of toppings including Katz's homemade sauerkraut.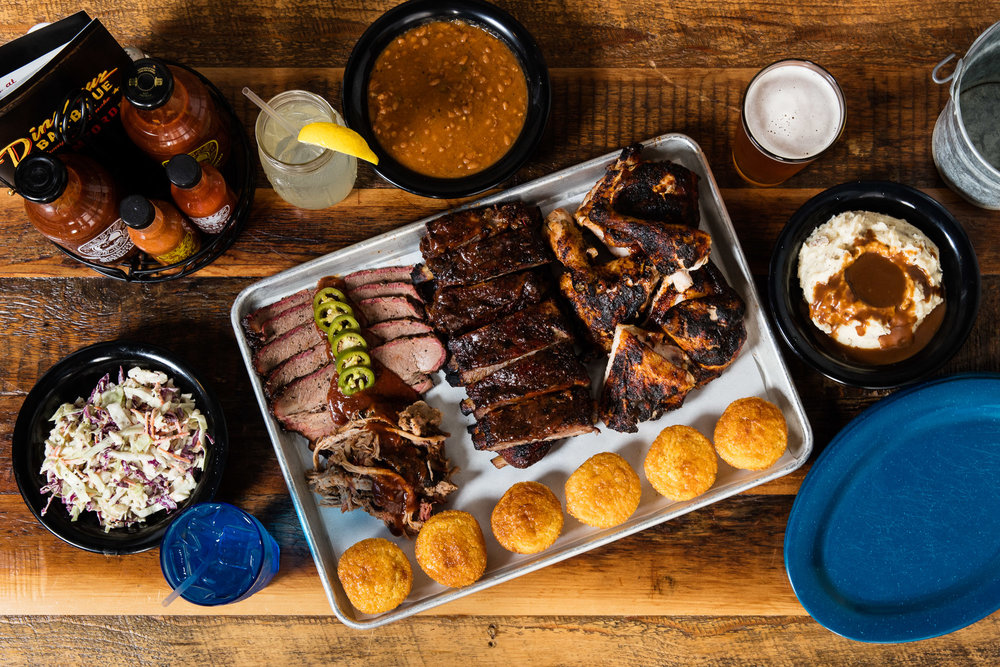 Dinosaur Bar-B-Que Family Stylin' platter, photo by Brent Herrig
Dinosaur Bar-B-Que
There's no better way to spend Memorial Day than with your family and the Family Stylin' BBQ platter served at Dinosaur Bar-B-Que's Brooklyn and Harlem locations. You'll get a whole chicken, a full rack of ribs, 1 pound of slow-smoked pulled pork or brisket (or make it a ½ and ½), plus your choice of three sides and cornbread to share with your loved ones.
Blue Ribbon Kanpai Garden
Skip the hassle of packing a picnic and let Blue Ribbon Kanpai Garden take care of the details. Grab a table at the Japanese-inspired beer garden, complete with hanging paper lanterns and origami swans, and feast on a menu of Japanese street food. Order the grilled Yaki Eringi Mushroom skewers with tofu tamari sauce, or Grilled Corn with miso butter, and don't forget to wash it down with their signature Frozen Kirin Beer Slushie!
Boucherie
The name Boucherie translates to "the craft of the butcher" and true to its namesake this West Village, French Brasserie isn't playing around with their signature Boucherie Burger. Order their mouthwatering, dry-aged (in-house) Pat LaFrieda-blend burger with caramelized onions, aged gruyere & french fries – you won't regret it!