Celebrating Valentine's Day 2021 will look a little different than years past. For one, indoor dining is suspended or severely restricted in much of the country, so the typical romantic dinner for two is off the table (see what we did there?). But there are still plenty of ways to spread the love this year. Our team has rounded up some of the (food-centric) ways we're celebrating.
Pizza + Pudding
Two NYC food legends are teaming up to offer an epic Valentine's Day dinner from home. Emily Hyland of Emmy Squared & Bobbie Lloyd of Magnolia Bakery have put together the ultimate meal kit to celebrate with the ones you love, featuring cocktails, cheesy Detroit-style pizza and luscious banana pudding. The live cooking class takes place via Zoom on Saturday, 2/13 at 7pm ET. The week of the event, you'll receive your Valentine's Day Banana Pudding + Pizza Kit filled with everything you need to make an absolutely decadent meal, from cocktails all the way through to dessert. Order by 2/7 at 1pm.
A Romantic Socially-Distanced Stay at the Mandarin Oriental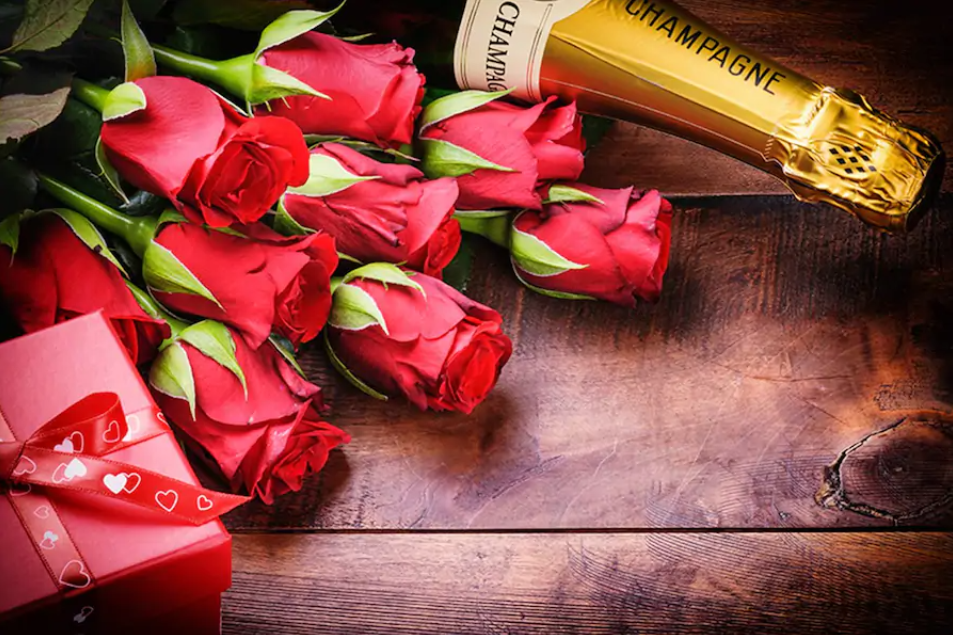 If you're in the Northeast and just. need. to. get. out. of. your. house, book a romantic weekend for two at the Mandarin Oriental, Boston, and take advantage of their Valentine's Day Package from February 12-14. Enjoy a bottle of champagne on arrival, Valentine's Day in-room décor, a dozen red roses, and a three-course in-room dinner for two. Book now.
Vitamins!
Ok, fine. Not the sexiest item on the list. But hear us out. What's sexier than taking care of yourself and your loved ones? Not much. This Ultra Omega 3•6•9 supplement from Country Life Vitamins is filled with the fatty acids that support heart health (Hello, Valentine's Day!) and promote brain function, among a whole host of other benefits.
Make Something From Scratch
Make your Valentine's Day meal extra special by working together in the kitchen to make it happen. Cookbook author Anna Francese Gass shares romantic recipes from her book Heirloom Kitchen to spice things up in the kitchen and put your cooking skills to the test.
Magda's Lumpia (Fried Pork Spring Rolls)
Makes: 6 Dozen
Prep: 15 Minutes
Total: 40 Minutes
Ingredients
FOR THE ROLLS
1 medium carrot, cut into quarters
6 garlic cloves
1 medium white onion, cut into quarters
1 pound (455g) ground pork
1 teaspoon coarse salt
1 teaspoon freshly ground black pepper
1 teaspoon MSG (optional)
1 package (8-inch/20cm square) spring roll pastry sheets (Magda prefers Spring Home TYJ Spring Roll Pastry)
1 large egg
1 teaspoon all-purpose flour
3 to 4 cups (720 to 960ml) vegetable oil)
FOR THE DIPPING SAUCE
1 cup (240ml) white vinegar
1 teaspoon freshly ground black pepper
1 garlic clove, minced
Directions
Make the rolls. Chop the carrot, garlic and onion in a food processor until finely minced, but not yet a paste
Combine the vegetables with the pork, salt, pepper and MSG (if using) in a large bowl
Place all of the pastry sheets on a cutting board and fold letter style into thirds. Cut the pile into thirds across the folds
Beat the egg with the flour and 1 tablespoon water in a small bowl. Set up an assembly line of egg mixture, wrappers and pork mixture
Place a strip of pastry on a flat surface with the short end facing you. Place a heaping teaspoon of filling on the end closest to you
Leaving the sides open, tightly and evenly roll up the lumpia, keeping the far end taut so the ends remain even and tight. Once you reach the far end, seal the wrapper with a swipe of egg mixture along the edge. Repeat until all of the filling is used
Meanwhile, heat the oil in a large pot to 350. Add 5 to 6 lumpia at a time and cook until the wrappers become golden brown and the filling is very dark on the ends, 4 to 5 minutes
Drain on paper towels. Repeat for the remaining lumpia
Make the dipping sauce. Combine the vinegar, pepper and garlic in a small bowl
Save room for something decadent (and chocolate, of course) for dessert, like Gina's Bocconotti and enjoy a romantic evening from the comfort of your own home.
Gina's Bucconotti Calabrese (Italian Hand Pies)
Makes: 16
Prep: 25 Minutes
Total 40 Minutes
Ingredients
4 cups (500g) all-purpose flour
1 cup (200g) sugar
1 envelope (16g) lievito vangliato (Gina uses Bertolini)
1 envelope (3g) or 1 teaspoon vanilla powder (Gina uses Paneangeli Vanillina)
1 ¼ cups (256g) vegetable shortening, plus more for pans
5 large eggs
Zest of 1 orange
2 teaspoons triple sec
1 cup (240ml) chocolate hazelnut spread or 1 cup (240ml) cherry jam
Confectioners' sugar for dusting
Directions
Preheat the oven to 350 degrees
Sift the flour and sugar into a large bowl. Add the lievito vanigliato and vanilla powder and whisk to combine
Add the shortening, 4 of the eggs and the orange zest and knead until a shaggy dough forms
Add the triple sec and continue to knead until a smooth ball of dough forms, 5 to 7 minutes
Cover the dough with a tea towel and let it rest for 10 to 15 minutes
Generously grease 1 to 2 tartlet forms or muffin pans with shortening (enough to accommodate 16)
Pinch off a 1 ½ inch (about 2 tablespoon) piece of dough and roll it into a ball. Flatten the ball on the counter, then place it into a tartlet form. Use your fingers to press it into the bottom and up the sides. Repeat 15 more times
Place 1 tablespoon of the chocolate hazelnut spread of jam into the middle of each piece of the dough
Pinch off another 1 ½ inch piece of dough, roll it into a ball and flatten on the counter. Place it on top of one of the forms and pinch the edges together to seal in the filling. Repeat for the remaining forms
Whisk the remaining egg with a bit of water, then brush the top of each bocconotti with a bit of the egg wash. Bake for 15 to 17 minutes until the tops are golden brown
Cool completely, then sprinkle with confectioners' sugar to serve
Sushi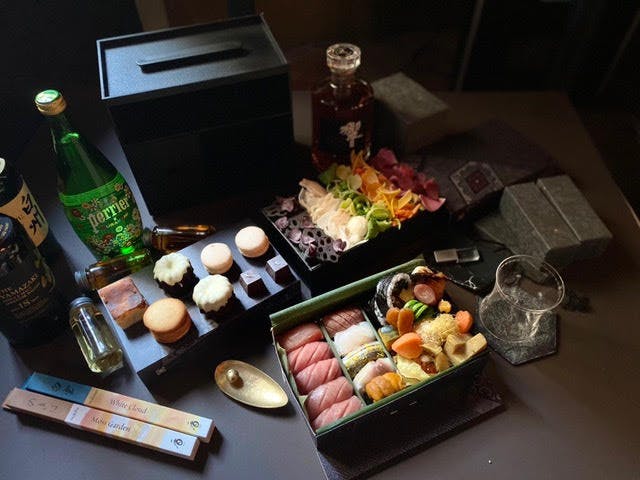 Because there's literally no day of the year that we don't want to eat sushi. This Valentine's Day, the team at o.d.o has curated a gift set designed to delight the five senses. They note that when it comes to love, Western culture focuses on the perplexing journey to find "The One", while eastern culture emphasizes family ties. This gift set celebrates the universal concept of love as the profound connection of human beings. It includes odo "Sakana", MUSE sushi Box, MUSE pastry Box, Suntory Whiskey, Kimura Glass, Oshima Tsumugi Coaster, Playlist by The Backroom, Shoyeido Incense, Perrier (Murakami Collection). YES. PLEASE. Pre-order now. 
With all these great ways of celebrating Valentine's Day, the only questions are which to choose and what to leave for Valentine's Day 2022.