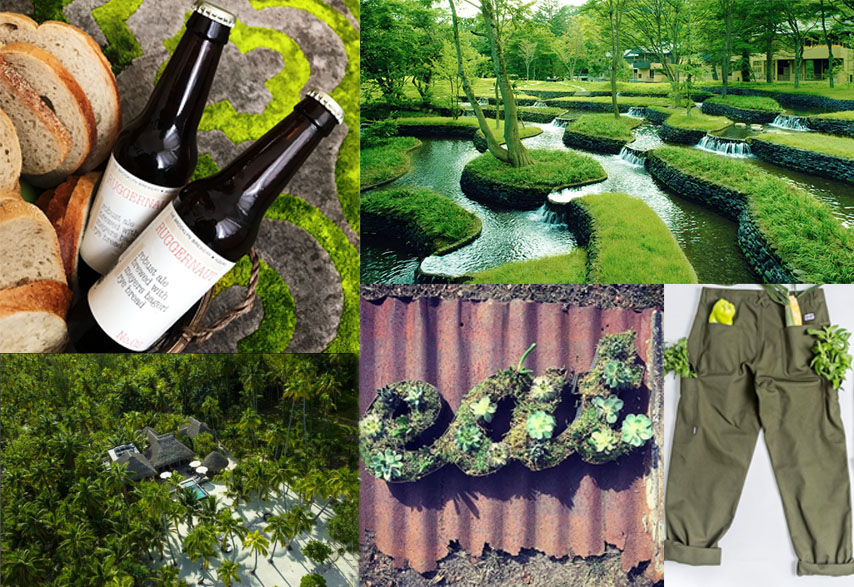 Clockwise from top left: Ruggernaut from Meyers USA and Brooklyn Brewery, HOSHINOYA Karuizawa, Tilit's Tactical Pants, Porta, The Brando
We all try to play our part in helping to reduce waste, whether it is separating recycling, taking shorter showers, or driving less and walking more. But some companies are taking their ecological footprint reduction to new levels. These five business take sustainability as seriously as it should be
The NYC-made hospitality workwear company, Tilit, retails high-quality, fashion forward hospitality wear that encourages people to transition seamlessly from street to stove and vise versa. Not only are the products locally made, but they also produce a sustainable apron and Chef's coat made from recycled hemp and cotton fabric. After acclaimed Chef Dan Barber caught wind of Tilit's sustainable products, he approached co-founders Alex McCrery and Jenny Goodman to create a custom line of garden-inspired workwear for his food waste pop-up, wastED London. Both the front and back of house wore 100% recycled uniforms adding to the overall story of wastED.
Hoshino Resorts' HOSHINOYA Karuizawa is as eco-friendly as they come. The ryokan is set in a lush valley below an active volcano and harnesses geothermal heat for all heating needs, including for onsens (Japanese hot springs). The hotel captures hydroelectricity from fast flowing mountain streams and is almost energy independent as a result. The resort sorts trash into 33 recyclable categories, has banned the use of Styrofoam coffee cups, and switched to long lasting LED bulbs in their efforts to obtain zero waste. HOSHINOYA Karuizawa doesn't just focus on the sustainability of their resort, but the conservation of the surrounding area. In an effort to protect wildlife in the region they have set up an award winning non-profit conservation program. The hotel is constantly striving to be a leader in the area of sustainability in the hospitality industry.
Claus Meyer's highly-acclaimed Nordic-inspired food hall, Great Northern Food Hall, has partnered with Garret Oliver, Brewmaster at Brooklyn Brewery, to showcase the true meaning of upcycling. Brooklyn Brewery has released their newest Rye Ale, the Ruggernaut (a conflation of "rug" meaning rye in Danish and "Juggernaut" Oliver's favorite comic book character), the second beer in an ongoing collaboration series between Brooklyn Brewery and Meyers USA. The Ale is made from leftover loaves of rye bread that are frozen and stored. The loaves are shredded and the spent rye mash is used to produce the Rye Ale, which is then served at the food hall – completing the symbiotic partnership.
The Brando, located in stunning Tetiaroa in Tahiti, has several innovative programs and new technologies to help achieve their goals of carbon neutrality. The first is their Sea Water Air Conditioning system (SWAC). The system harnesses the cold of the ocean depths to provide low-energy, highly-efficient cooling for all the buildings, which reduces energy demands by almost 70%. The property also utilizes solar energy to generate over half of the resort's energy needs and provides all of the resort's hot water. Coconut oil power stations provides the other half of the resort's energy needs and are fueled by locally produced coconut oil, which also supports the local economy.
Porta, a Neapolitan pizzeria owned and operated by Smith, has gained national recognition for their innovative take on Italian cuisine, while maintaining a strong stance on sustainability. Porta's pizza ovens, delivered directly from Naples, use biodegradable bricks called Bio Blocks in lieu of firewood in order to reduce their carbon footprint. The bricks are made from 100% kiln-dried hardwood sawdust that are produced in the USA by Summit Wood Industries. No ash is emitted from their exhaust stack as a result of using these bricks. In addition to their in-house sustainability practices, Porta is also hosting a Pop-Up Bazaar in Porta National Park on Earth Day that will feature vendors who reduce, reuse, and recycle sustainable eco-friendly items.
See how B+B goes Green here!