The NYC Ferry is officially in operation with the launch of its first two routes in Queens and Brooklyn. Eventually, service will expand to six routes, connecting all 5 boroughs and that can only mean one thing – it's time to cruise! We couldn't be more excited to check out some of the city's great restaurants and attractions – all within walking distance to the ferry terminals.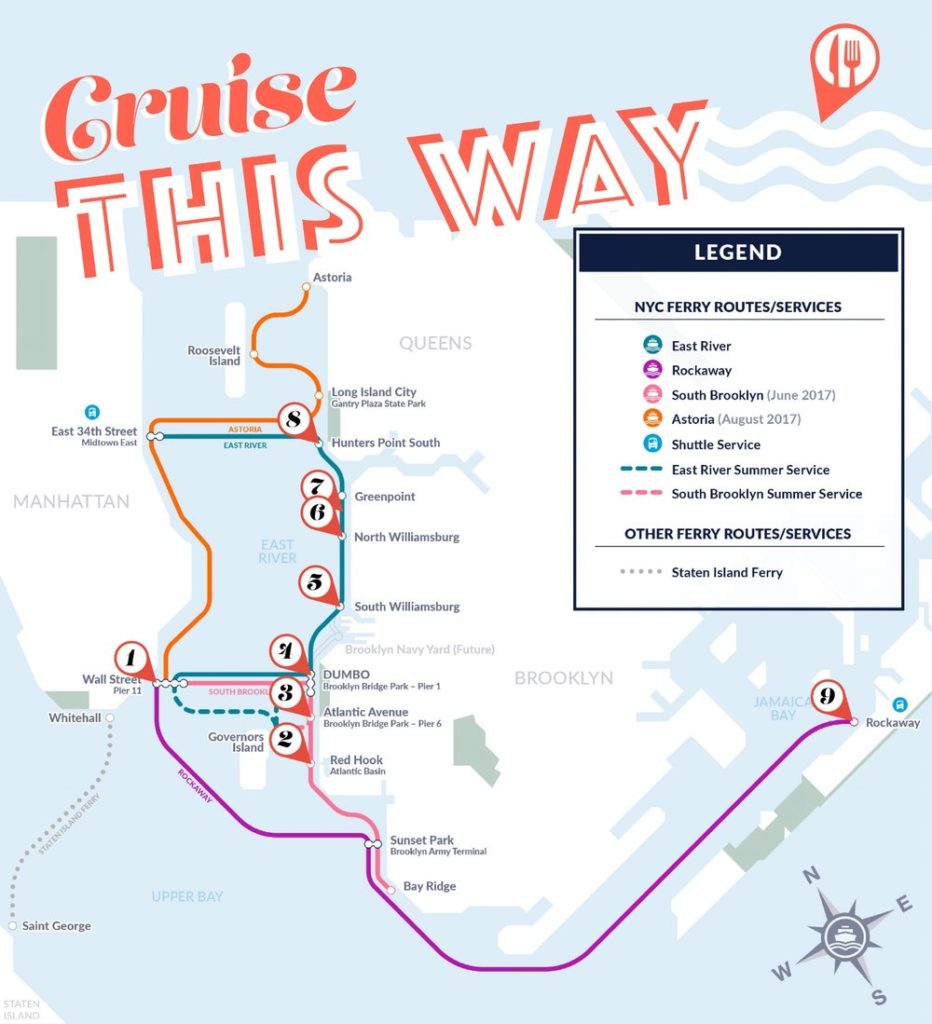 (1) Blue Ribbon Federal Grill – Wall Street, Pier 11
The Bromberg Bros' most recent addition, Blue Ribbon Federal Grill, is in the heart of the Financial District. This New American restaurant is the perfect after-work spot for cocktails and a quick bite before hopping on the Pier 11 ferry home.
(2) IKEA – Red Hook, Atlantic Basin
The new South Brooklyn ferry line stops in Red Hook and that means easier access to IKEA. SCORE! Set sail and get lost in a maze of bed frames, textiles, and kitchen accessories. Don't forget the Swedish meatballs!
(3) Fornino – Atlantic Avenue, Brooklyn Bridge Park – Pier 6
Fornino, situated on Pier 6, has one of the best skyline views we've ever laid eyes on. This wood-fired Neapolitan pizzeria offers rooftop seating where you'll get a clear look at both the Statue of Liberty as well as the Freedom Tower. Plan to dine during sunset, you won't be sorry.
(4) DUMBO Boulders – DUMBO, Brooklyn Bridge Park – Pier 1
DUMBO is known for its cobble stone roads, picturesque views of the Brooklyn Bridge, and sculpture-filled parks, but if you're looking for something a little more edgy why not try rock-climbing? Both the East River ferry and the South Brooklyn ferry make a stop at Pier 1 in DUMBO, right near DUMBO Boulders – where else can you scale rock walls in the city while looking out onto the Hudson River?
(5) Chinese Club – South Williamsburg
Take a flavorful trip with The Chinese Club restaurant, just a hop, skip, and a jump from the Schaefer Landing South Williamsburg ferry stop. The menu reflects Indo-Chinese cuisine (order the Wings on Fire) and all dishes are great for sharing – perfect for groups that have worked up an appetite while cruising the open waters.
(6) Rough Trade NYC – North Williamsburg
Rock out to some serious old-school vinyl, steps away from the North Williamsburg ferry stop at Rough Trade NYC. This independent record store was founded in West London in 1976 and has traveled across the pond to Brooklyn to bring us hard-to-find records and CD's, as well as live music shows and special events.
(7) Norman – North Williamsburg or Greenpoint
Claus Meyer and Fredrik Berselius' Nordic-inspired restaurant sits in Greenpoint, conveniently located between the N. 6th North Williamsburg and the Greenpoint ferry stops. A 15-minute walk in either direction is well worth the reward. The restaurant is open all day, and with freshly baked breads and pastries, you're guaranteed to get a delicious bite no matter when you arrive.
(8) The Creek and The Cave – Hunters Point South
If you're seeking a bit of fun, look no further than Long Island City staple, The Creek and The Cave. A quick walk from the Hunters Point South ferry stop will be well-worth your efforts at this bi-level, entertainment mecca. Among its features: Comedy shows, improve events, movie screening and cheap Mexican fare.
(9) Rockaway Beach – Rockaway
Easier access to the beach means more fun in the sun! After a day of surfing we head to Rockaway Beach Surf Club for a margarita and the freshest tacos in town. What's the Big Idea, TravelJune 20, 2017 Follow Us