Americans eat 20 billion hot dogs a year — water dogs on the go, grilled franks at backyard barbecues, and blistered links at campsite fire pits. While summertime is the best time for the hot dog, on the tail of a newspaper apologizing last year for all the times it called a hot dog a sandwich, there are a few indicators that this year is the Year of the Dog.
Jessa Moore, a national trendspotter, believes the hot dog is an American treasure. "They are part of the national Zeitgeist," she says. "They make people remember their childhoods," Moore says while some traditional supermarket hot dogs have fallen from popularity in this age of health and organics, the artisanal nitrate-free hot dogs new to the market are experiencing an upswing in popularity. "The hot dog is really humble, and people are trying to give them an artisanal makeover," she says. "The haute dog is having a moment."
She has a point. Hot dogs are showing up on restaurant menus with more frequency. Over the past five years, the number of hot dogs served at restaurants has increased by 2.5%, according to MenuMonitor.
In Pittsburgh's food hall/restaurant accelerator, Michigan & Trumbull at Federal Galley, chef/owner Nate Peck will be serving Detroit Coney dogs—snappy hot dogs topped with house-made chili, chopped onion, and yellow mustard. Meanwhile, at Danish Dogs, Claus Meyer's Copenhagen-inspired hot dog stand located in Grand Central Terminal in New York City, the chef is offering a menu of sausages and hot dogs, including seasonally-inspired chicken, beef, and pork hot dogs. He's also doing his take on a traditional 'Danish Dog' consisting of pork sausage, spiced ketchup, mustard, red onion, pickled cucumber, crispy shallots, and remoulade for that quintessential Denmark effect.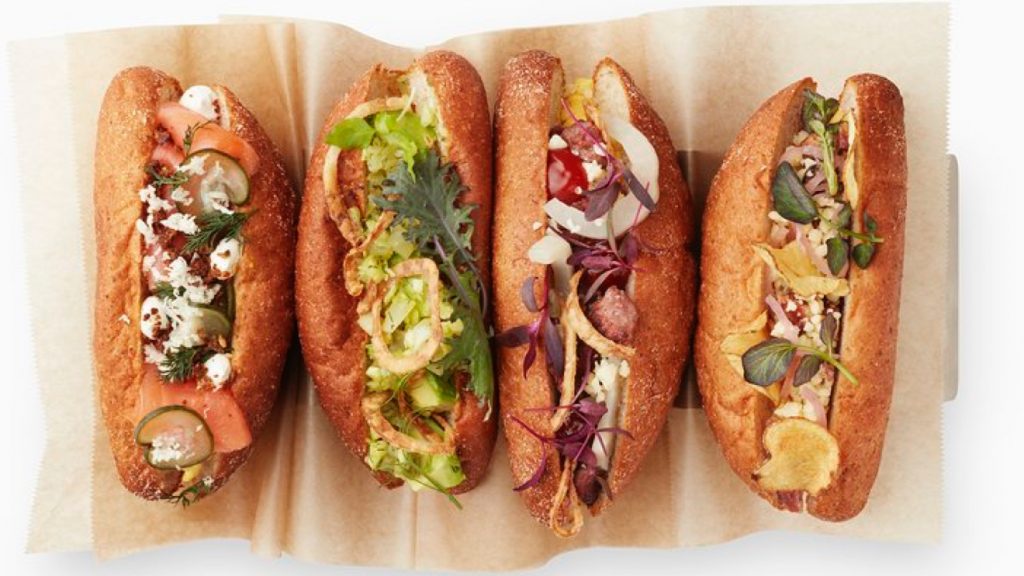 This year the hot dog is also taking a bite out of the rapidly-growing fast-casual market, dominated by salad-heavy startups like SweetGreen, Dig Inn, and Honeygrow. But newcomer craft hot dog shop Dog Haus is keeping pace. The Pasadena company debuted in 2010 with a roster of 100 percent-beef products — no hormones, nitrates, or antibiotics — created under the eye of celebrity chef and Food Network star Adam Gertler. Its playful menu marries a retro staple with artisan whimsy. There are dogs like the "Sooo Cali" — wild arugula, avocado, tomato, crispy onions, and spicy basil aioli; and a "Chili Idol" — an all-beef dog topped with Haus chili, Cheddar sauce, and onions, on grilled sweet King's Hawaiian rolls.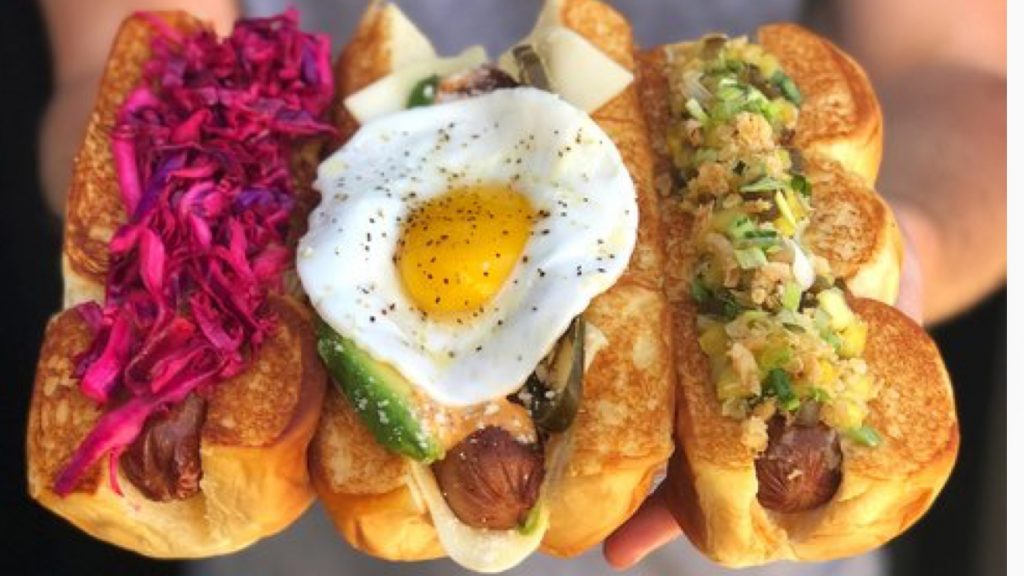 The concept took off relatively quickly. It currently has nearly 30 locations nationwide and will expand by 40 locations through 2019. It's recently even landed in New York City, popping up for a three-month residency at the Chef's Club Counter in Nolita.
"The hot dog isn't going anywhere; it's part of everyone's childhood, whether it's a summer barbecue, a ballgame, or a concert," says Dog Haus co-founder André Vener. "But what we have done is create a hot dog that is actually good for you. We have a clean label, and that is part of what people want. We have all these young kids who want to come in for hot dogs, and now their parents can order something really interesting with a craft beer. Then they all want to come back."
Speaking of New York, at the Bromberg brothers' Blue Ribbon Fried Chicken in New York City and Las Vegas, they've relaunched the Beach Bird during June; their crowd-pleasing specialty fried chicken sandwich layered with shredded iceberg lettuce, tomato, pickled cucumbers, brown mustard, malt vinegar- and sea salt-drizzled French fries, and…wait for it: a grilled beef hot dog (what a year to be eating).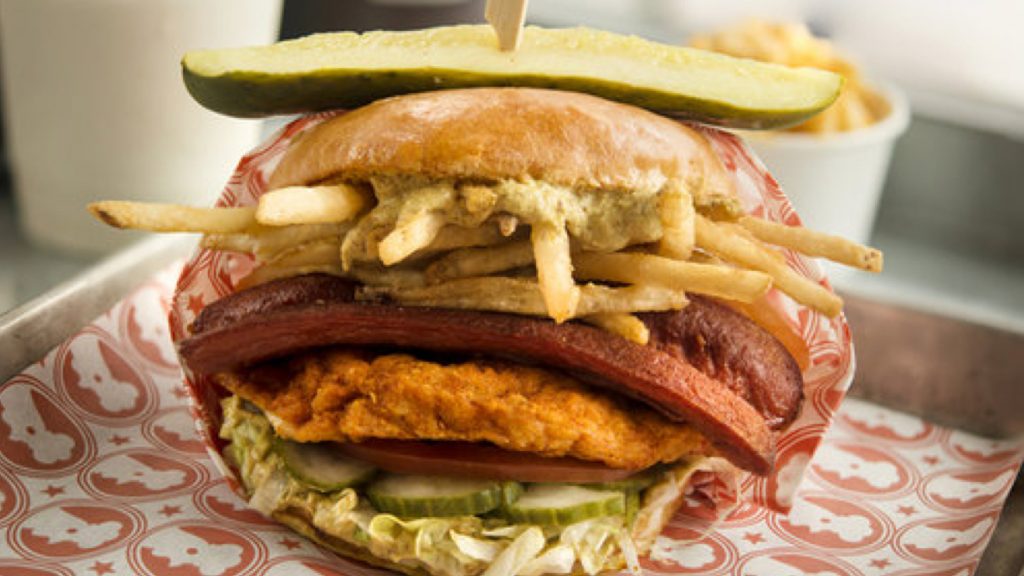 Visitors to Brooklyn Bridge Park this summer will be in hot dog heaven when the Erwin Wurm: Hot Dog Bus rolls into town. This modified vintage Volkswagen Microbus has been transformed into a bright yellow overstuffed food truck that will serve free hot dogs all summer long, a celebration of the gastronomic connections between the City's most iconic street food and the artist's Austrian homeland.
At the NoMad Bar, acclaimed chef Daniel Humm has also tackled the hot dog, wrapping it in crackly strips of bacon, tucking it into a toasty buttered bun, and topping it with celery rib, root, and leaf, with a streak of black-truffle aioli. Even modernist chef Grant Achatz is getting in on the dog, using a rotary evaporator to distill the essence of the dog and its component parts down into one surprising bite of a Chicago-style hot dog.
Detroit's fancy new hot dog purveyor Loaded Links features all-beef hot dogs as well as higher-end tube meats made from Wagyu and Kobe beef. The 1,500-square-foot hot dog shop operated by Randy Ayyar serves hormone and antibiotic-free hot dogs topped with unexpected ingredients like tempura avocado and truffle mayo. The signature dogs include "The Porky," loaded with pulled pork, bacon aioli, diced tomatoes, and green onions, and "The Longhorn," with beef brisket, coleslaw, and beer-battered onion rings. Bacon-wrapped Sonoran hot dogs will also be available.
In May, Drafts and Dogs opened in Atlanta's Ponce City Market central food hall. Owned by Kristin and Missy Koefod of cocktail and bitters company 18.21 Bitters, Drafts and Dogs offers a clever roster of dogs like "I'm so Fancy (you already know)" — a Kobe beef dog with melted truffle butter, lobster, and caviar, and the "Downward-Facing Dog," a vegan dog topped with radishes, carrots, banana peppers, and dill (all of Drafts and Dogs' hot dog buns are vegan).
Out on the strip in Las Vegas, you'll find the Haute Doggery, a new take on the American hot dog stand located within The Strip's open-air retail, dining, and entertainment district – The LINQ Promenade. The menu includes combinations like the "El Machete" — a char-grilled frank topped with roasted green chilies, borracho onions, pepper jack cheese, tomato, and spicy machete sauce; "The Rising Sun"—a grilled Kobe beef frank, smothered in crispy yam, nori furikake rice seasoning, teriyaki glaze, spicy mayo, and tempura avocado; and the "Fun-Ghi"—a char-grilled dog blanketed in roasted mushrooms, Gruyère cheese, caramelized onions, and truffle mayo.
Of course, some would argue the hot dog never went out of style. Six-time Emmy-winning, 96-year-old actress Betty White swears by them as the key to longevity, hoping to eat the things she loves, namely vodka and hot dogs, "probably in that order." And for all the new tricks, sometimes it's the old dogs, er, time-honored, beloved standard-bearers, we're drawn to. For that, look no further than Katz's Deli, whose all-beef, natural casing dogs once again topped Grub Street's list of the absolute best hot dogs in New York City.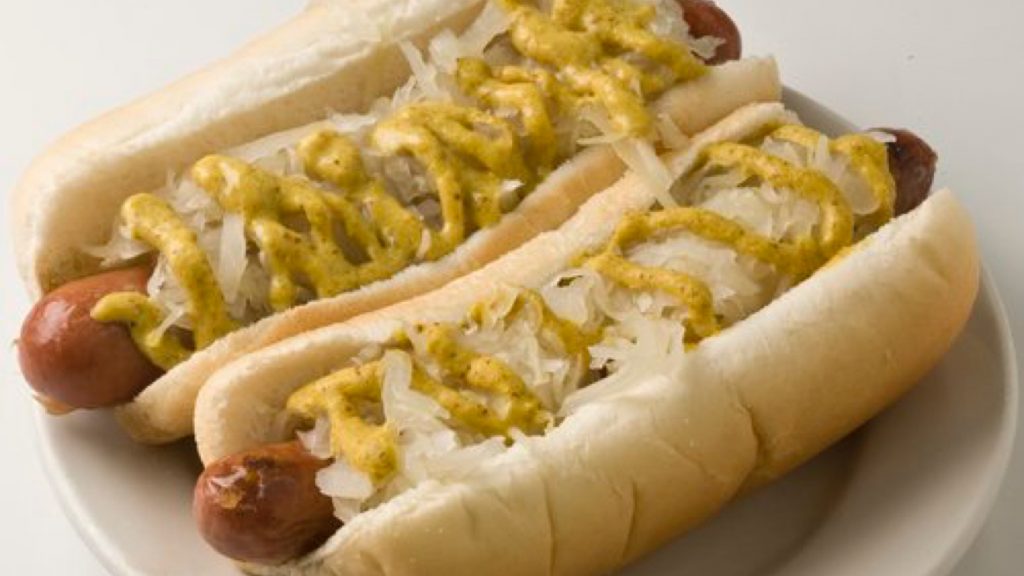 Walter's Hot Dogs, a Westchester institution and nationally registered historical landmark since 1919, has also begun expanding in the past couple of years; it is slated to open its third store in White Plains, which is its first dine-in fast-casual concept.
While times have changed over the near-century they've been in business, their recipe has stayed true to its origins—an exclusive blend of beef, pork, and veal, split down the middle, grilled in a secret sauce, and served on a toasted bun with Walter's signature mustard: a blend of choice mustard seeds, relish, and spices.
Why all the expansion now, nearly 99 years after its first store opened? Walter's fourth-generation owner-operator Katharine Warrington Woodward says its popularity is a product of America's continued love affair with the unassuming hot dog. "The hot dog is an American classic and will always be popular and relevant," she says.
For more articles like this, check out our blog for regular updates.